Host a Private Event with Board & Brush! Private Events
Board & Brush
Host a Painting Party for Your Next Private Event!
Private wood sign workshops allow groups to gather and enjoy the full Board & Brush experience at a time and date that works best for them. Each participant is able to select their own unique project – from signs, to trays, to build boxes, and more! Your group will enjoy a creative outing in a fun atmosphere, with hands-on instruction, and leave with a beautiful home décor piece that everyone will be proud to display in their homes.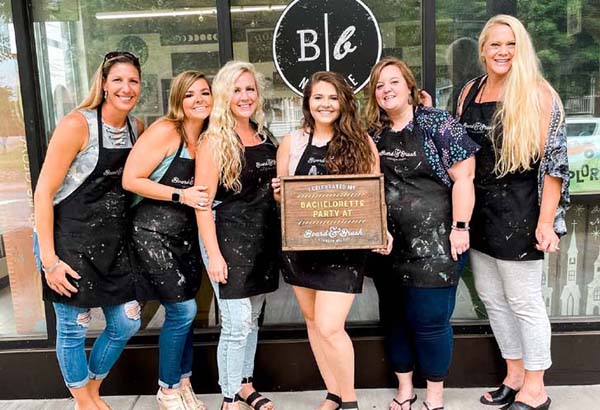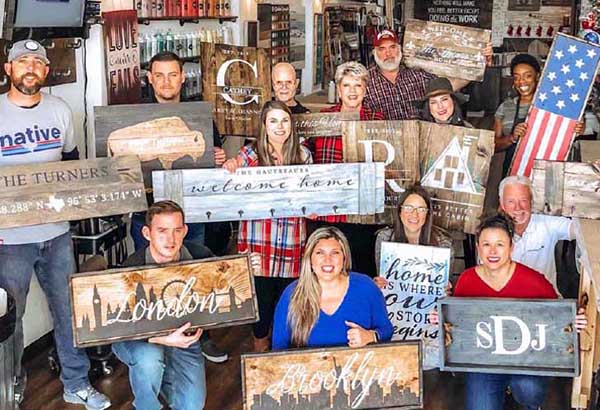 Private Parties (Adults)
Board & Brush Creative Studio offers private painting parties for bridal showers, birthdays, bachelorette parties, neighborhood gatherings, team sport moms, corporate events, or any other fun reason to get a group together and create!
We take care of set up beforehand and the clean up afterwards!
We give you up to 3 hours of studio creativity!
You choose the wood sign projects to offer your group from our gallery.
Our amazing staff offers guided instruction for each project!
We provide all of the materials needed (including wall hangers)!
Each guest will leave the painting party event with a beautiful, classic wooden piece to adorn his or her walls!
We offer alcoholic and non-alcoholic beverages in some of our studios while other studios have a BYOB permit for your convenience. Please contact your local studio for more information related to their alcohol policy.
Looking for a Specific Type of Private Event?
Sounds great,
how do we sign up?
1. Pick a Studio Near You
To find a location nearest to you, view the list below, input a ZIP code or allow our site to auto-detect the best studio based on your location.
2. Fill Out Our Private Party Request Form
After selecting your studio location, fill out our party request form to give us information on your availability, party size and party type!
3. Browse Our Design Options
The studio owner of your selected location will reach out to finalize the details after receiving your form. In the meantime, you can browse our project gallery to get inspired and excited for what you might choose to create!
4. Show up and have fun!
Once your private painting party is confirmed, we'll take care of the rest! Events typically last three hours, but these can vary a bit depending on studio. Be sure to arrive a little early to find your seat and get settled in — we start our DIY workshops on time!
What are you waiting for?
Search your nearest studio location below! Then, you can submit your private party request.