Girls' night in has never been so fun!
Girls' Night In!
Take your girls' night to the next level with our brand new virtual workshops! Gather your best friends virtually to enjoy good company AND an exclusive Board & Brush workshop all from the comfort of your own home!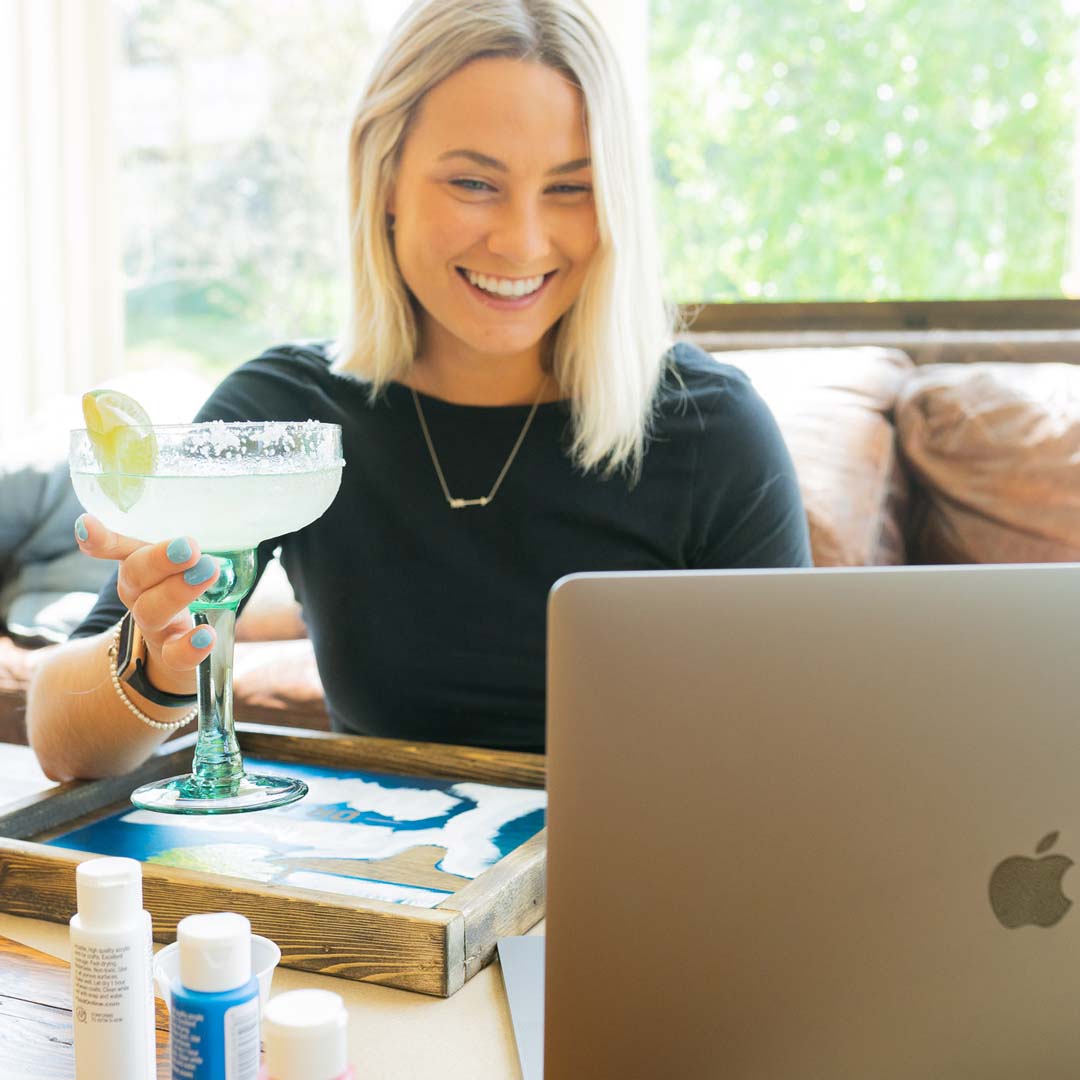 After starting as a gathering of friends in our founder's basement, it's no secret why Board & Brush has grown to include hundreds of locations nationwide. Not only do you have a great time with friends, you bring home a beautiful piece of personalized art you made yourself!
Discover the artist in you. A night with Board & Brush will help you tap into the inner creativity you didn't know was there. We make it easy with a wide variety of designs.
No experience required. We provide safe and easy curbside pickup for all of the necessary tools and materials you'll need to create your very own, completely unique wood sign or tray. Then, at your scheduled workshop time, one of our expert instructors will join your group on a virtual platform to walk you through how to easily create your DIY masterpiece!
Eat, drink, and be creative – all without ever leaving your home! To get your creativity flowing, request your private virtual workshop below!
Sounds great,
how do we sign up?
1. Pick a Studio Near You
Find a location nearest to you, view the list below, input a ZIP code or allow our site to auto-detect the best studio based on your location.
2. Fill Out Our Virtual Workshop Request Form
After selecting your studio location, fill out our virtual workshop request form to give us information on your availability, party size and project theme selection!
3. Browse Our Design Options
Select a mini-sized design from one of our available themes that have been perfectly curated for you and your girls!
4. Pick Up Your Supplies
Your studio will work with you to schedule a convenient time for your curbside pickup of all of the materials and tools you'll need.
5. Stay At Home & Enjoy!
Get your materials set up at home—we'll take care of the rest! We will give you the information to easily access the virtual platform, and our expert instructor will walk you and your friends through the steps of your workshop. Grab your favorite drink, settle in and ENJOY!
What are you
waiting for?
Search your nearest studio location below! Then, you can submit your virtual workshop request.
We can't wait to 'see' you virtually!