Host a Team Building Private Workshop! Corporate Private Events
Board & Brush
Corporate Private Events
Our DIY workshops provide the perfect opportunity for your team to socialize, collaborate, and have fun all while creating a unique piece of art that you'll be proud to display in your home. There's nothing quite like bonding with your co-workers over a hands-on, inspiring DIY event!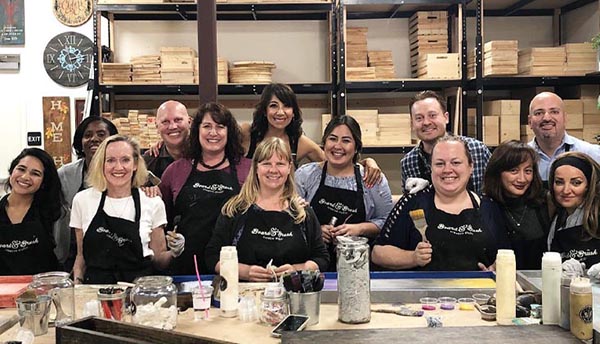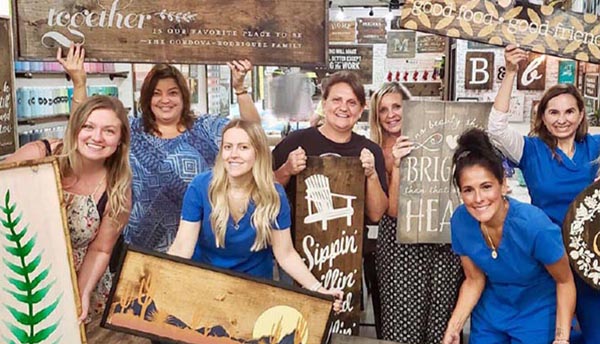 Team Building Workshops
At Board & Brush, we work to perfectly curate each event to fit your team's unique needs! From a large variety of design options to virtual offerings in case some of your team is not local – we are here to help make your event a success!
We provide the host with a private event link to share with their team.
We have designs filled with inspiring quotes related to family and work-life for your attendees to choose from.
Our staff provides hands-on instruction.
We provide you with all the materials, music, and fun atmosphere to help build team morale.
We can help you cater your event by partnering with a local restaurant or, you can go potluck!
Contact your local studio to find out if alcohol is sold on site, or if it is a BYOB establishment.
Do you have a team of employees that are located in different areas but would still like to try the Board & Brush experience? We've got you covered! We even ship our kits nationally. Learn more about our Virtual Corporate Events.
Sounds great,
how do we sign up?
1. Pick a Studio Near You
To find a location nearest to you, view the list below, input a ZIP code or allow our site to auto-detect the best studio based on your location.
2. Fill Out Our Private Party Request Form
After selecting your studio location, fill out our party request form to give us information on your availability, party size and party type!
3. Browse Our Design Options
The studio owner of your selected location will reach out to finalize the details after receiving your form. In the meantime, you can browse our project gallery to get inspired and excited for what you might choose to create!
4. Show up and have fun!
Once your party is confirmed, we'll take care of the rest! Sessions typically last three hours, but these can vary a bit depending on studio. Be sure to arrive a little early to find your seat and get settled in — we start our DIY workshops on time!
What are you waiting for?
Search your nearest studio location below! Then, you can submit your private party request.