Private Diy Events for Kids! Kids' Private Parties
Board & Brush
Private DIY Events for Kids
At Board & Brush, there's something for all ages! Our DIY Kids' Parties allow kids to let their creativity run wild while giving them a hands-on, instructor-led experience that they are sure to never forget. Perfect for birthday parties, summer activities, Kids' Camps, or just a fun day out, our private kids' DIY events are the ultimate party idea!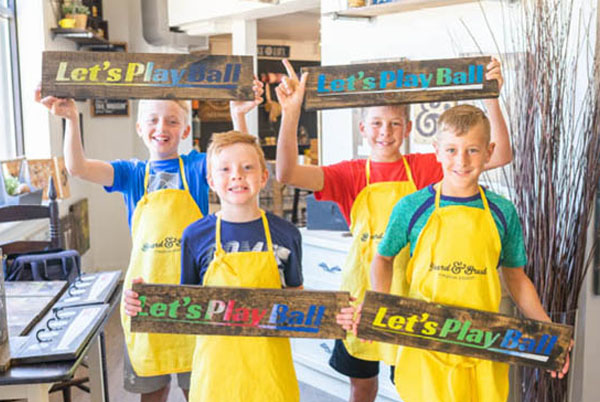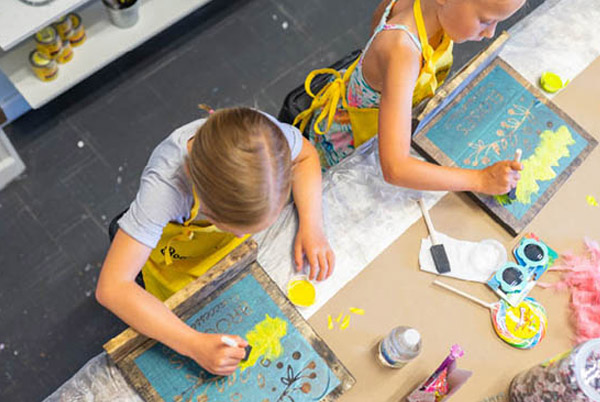 KIDS' PARTIES (AGE 6-12)
Your child will be thrilled to celebrate at Board & Brush Creative Studio with one of our wooden sign workshops and you will love that the mess won't be in your home! Unique and stylish projects will be so much fun for the birthday boy or girl to complete with their friends!
We take care of set up for the party.
We give you 1–1.5 hours of Studio creativity… painting, stenciling, and more!
You may bring in your own cake, snacks and drinks!
Our amazing staff offers guided instruction for each project!
We provide all of the materials.
Each guest will leave with a beautiful, fun, whimsical piece to adorn his or her walls!
Board & Brush handles all of the clean up so you can enjoy the party!
*Due to state restrictions, some studios cannot accommodate minors in the studio. Please contact your local studio for more information.
Sounds great,
how do we sign up?
1. Pick a Studio Near You
To find a location nearest to you, view the list below, input a ZIP code or allow our site to auto-detect the best studio based on your location.
2. Fill Out Our Private Party Request Form
After selecting your studio location, fill out our party request form to give us information on your availability, party size and party type!
3. Browse Our Design Options
The studio owner of your selected location will reach out to finalize the details after receiving your form. In the meantime, you can browse our project gallery to get inspired and excited for what you might choose to create!
4. Show up and have fun!
Once your party is confirmed, we'll take care of the rest! Sessions typically last three hours, but these can vary a bit depending on studio. Be sure to arrive a little early to find your seat and get settled in — we start our DIY workshops on time!
What are you waiting for?
Search your nearest studio location below! Then, you can submit your private party request.