Meet the Board & Brush Pets
At Board & Brush, we love our pets! And in honor of National Pet Day, we decided to introduce our furry family members. Many of whom spend their days inspiring us at our Franchise Support Center.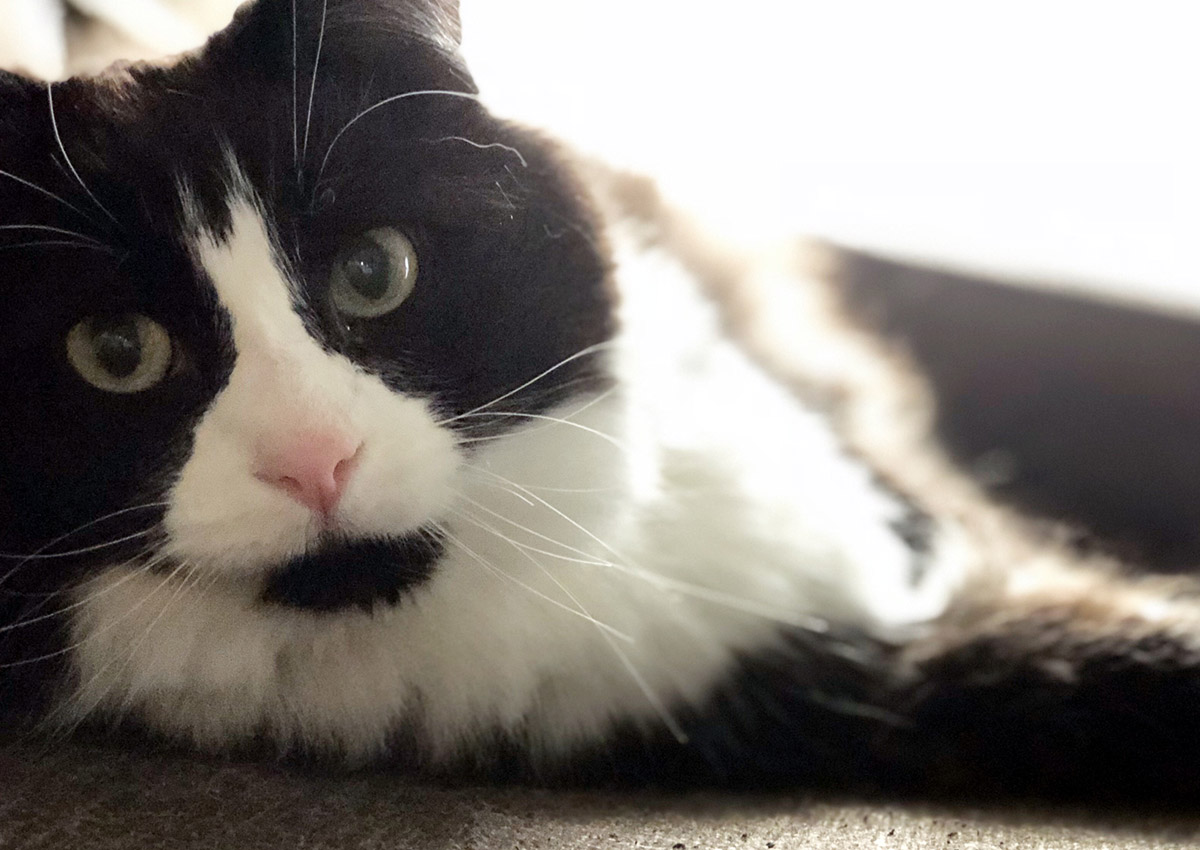 BANDIT – THE ROMANTIC
PARENT: AMY SACKRISON
Seven-year-old Bandit got his name because it looks like he's wearing a little mask! He will come whenever you call him, he LOVES to snuggle and gaze into your eyes and gives the best hugs. He also likes to remind his humans to feed him breakfast every morning.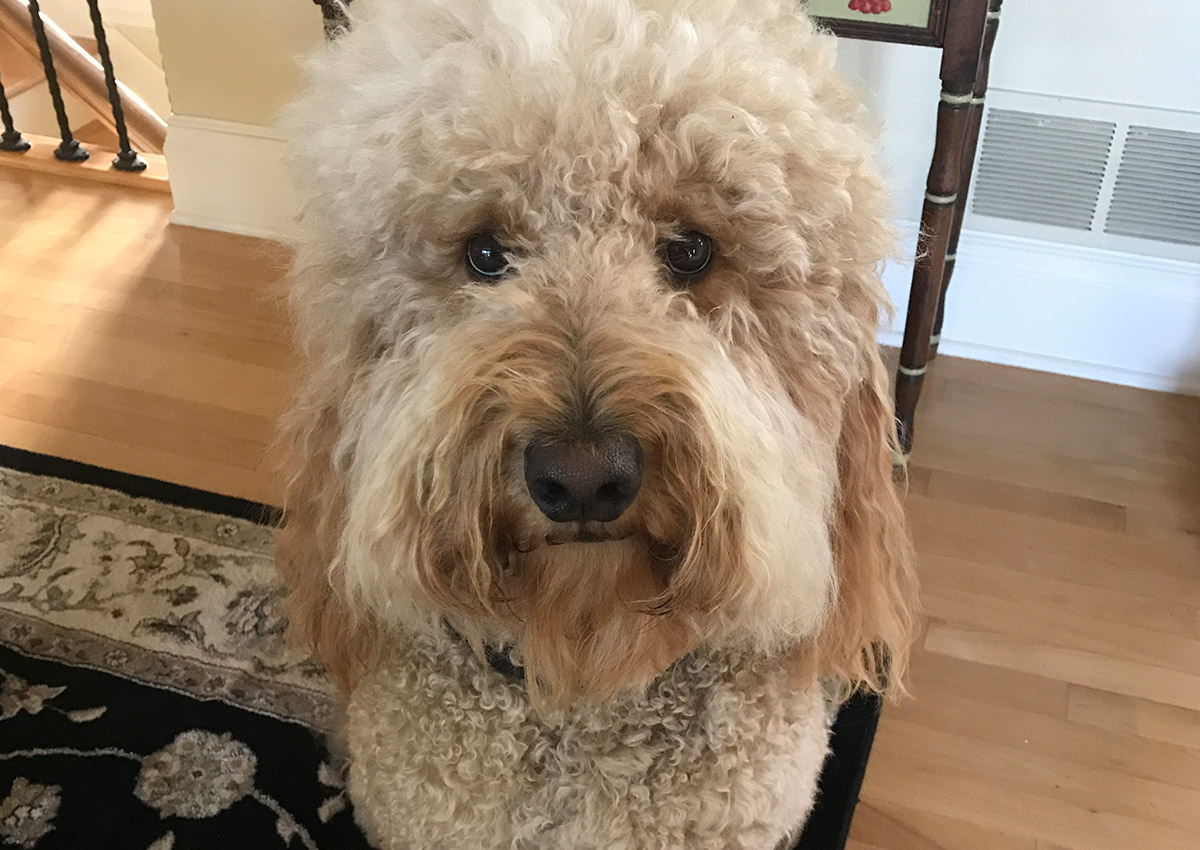 CLYDE – THE SAILOR
PARENTS: JULIE AND CURT SELBY
Clyde is a four-year-old Goldendoodle but thinks he's a person and is very sensitive. He has mastered the side-eye stare in order to mask his true intentions. Clyde is a very sweet boy and loves to ride in boats!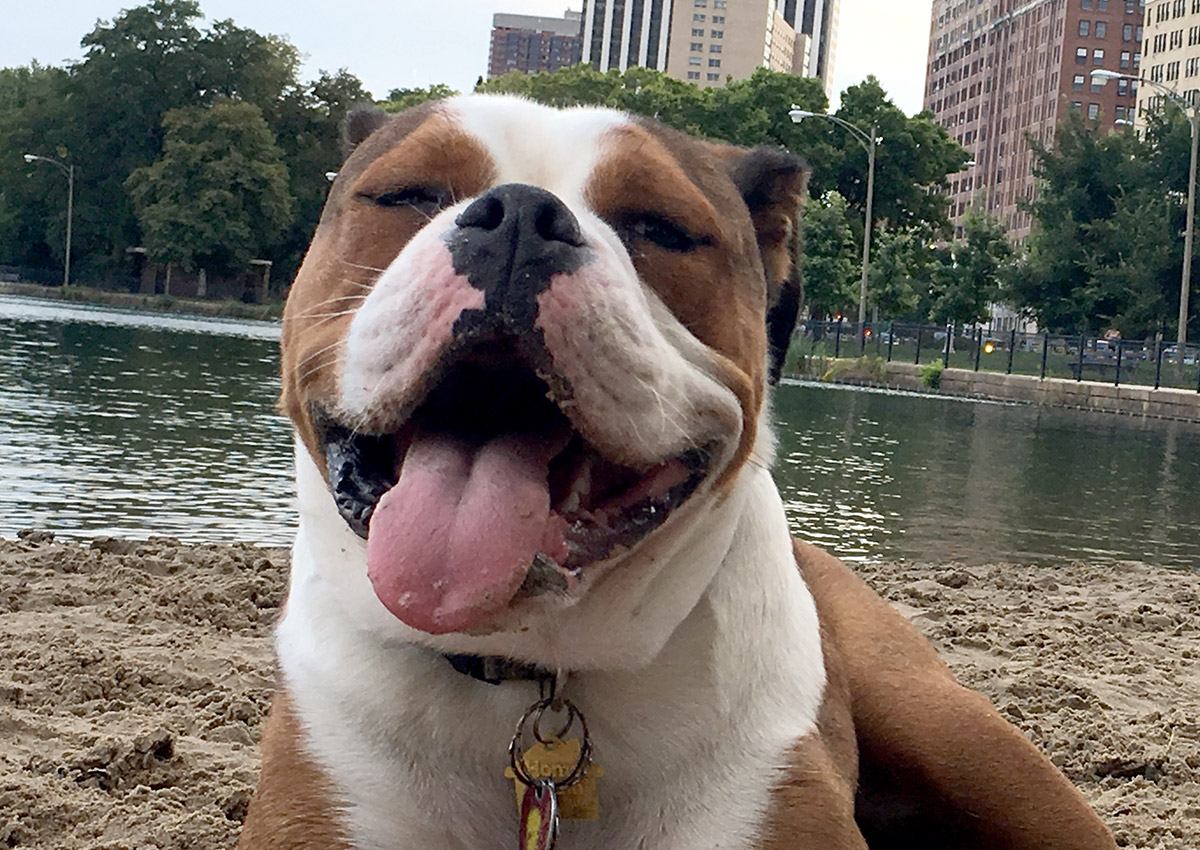 ERNIE – THE OUTDOORSMAN
PARENTS: ALISSA AND IAN ROBINSON
Ernie (aka Ern, Ern Man, Big Ern) is a three-year-old, Olde English Bulldogge (not to be confused with an English Bulldog). His favorite word by far is "Outside," and he loves fetching tennis balls, investigating new scents, romping with his friends, and cooling off in the dirt. Ernie is a vocal, stubborn little boy, but don't let him fool you, he is full of unconditional love.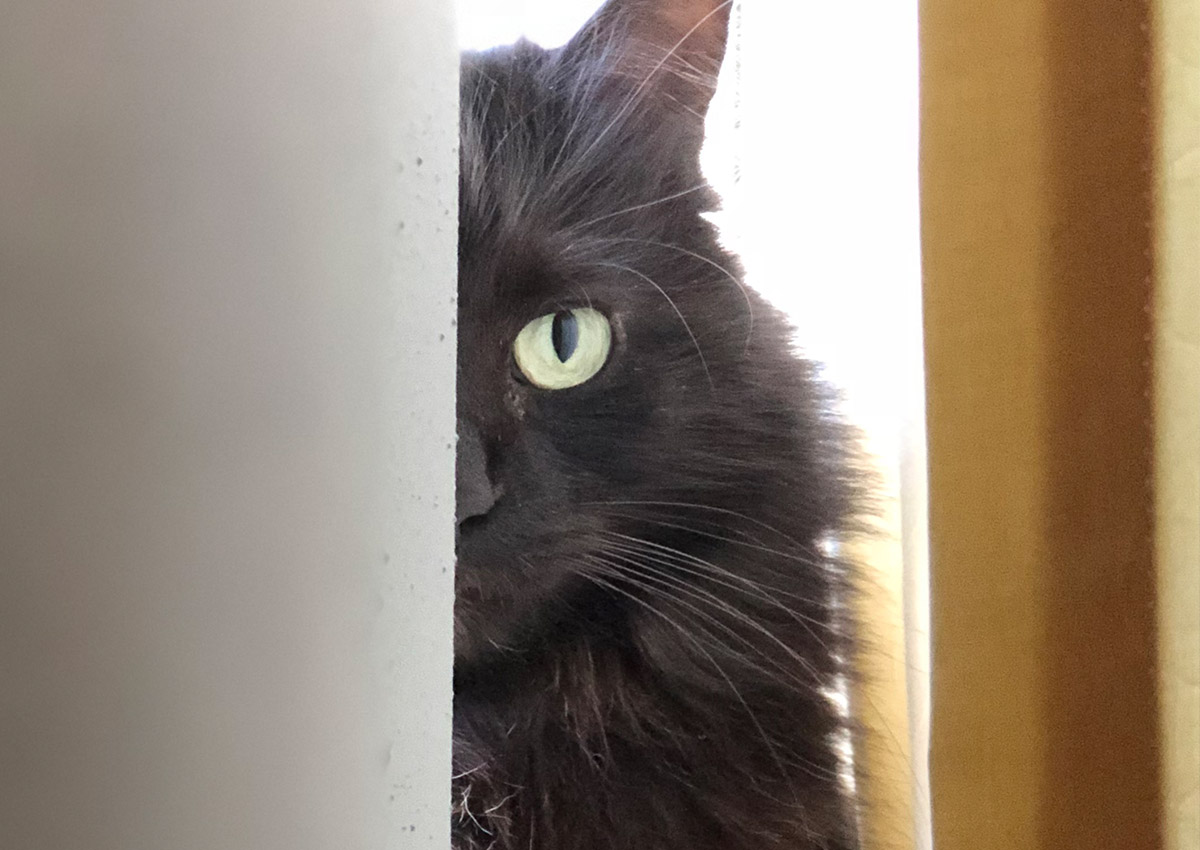 OLIVE – THE PHANTOM
PARENT: AMY SACKRISON
Olive is a small, seven-year-old black cat, she fancies herself as a professional gift wrap "helper." She loves playing with shaky mice and she's great at hide-n-seek.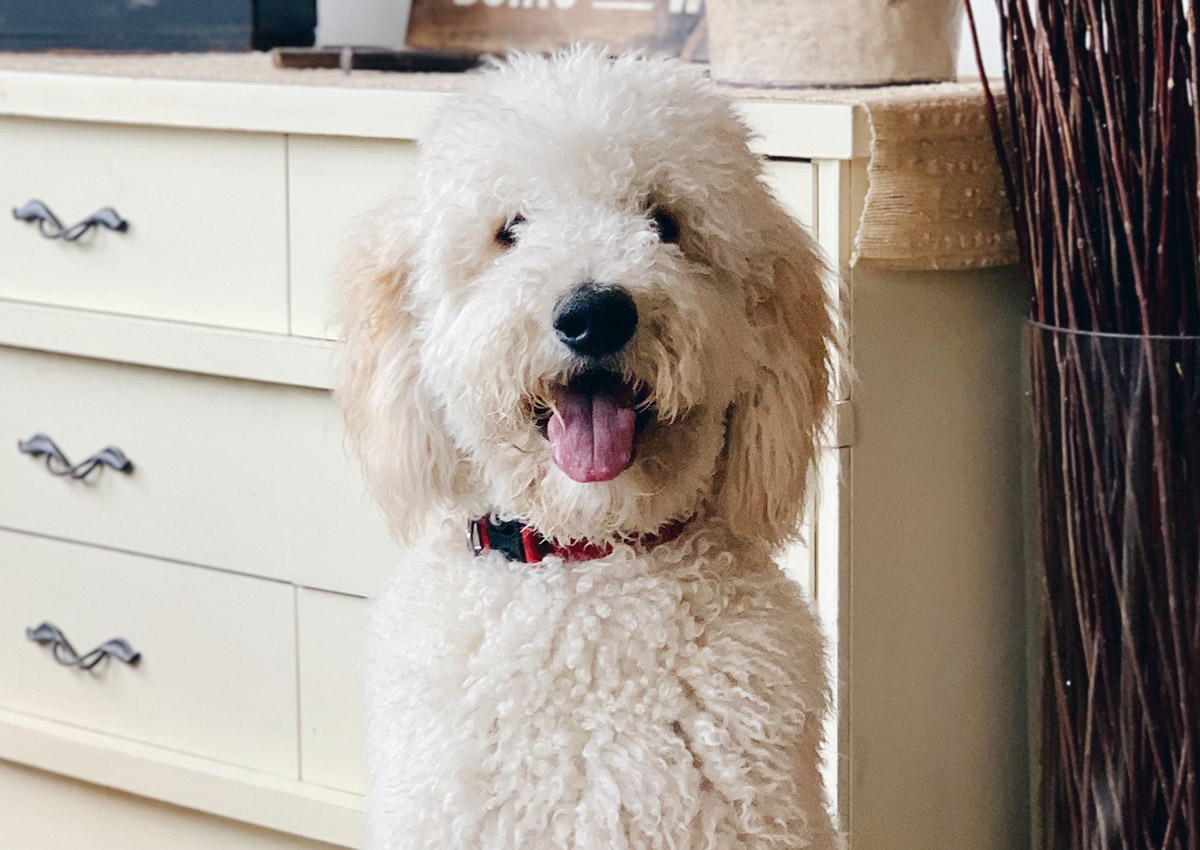 FRANKLIN – THE FREE SPIRIT
PARENT: LEAH SELBY
Franklin is a ten-month-old Goldendoodle, his nickname is Frank the Tank because he is so big. He is a very loving and down to earth dog who puts a smile on everyone's face. He is the king of the head-tilt and loves posing for pictures. His favorite thing to do is go to work with his mom and hang out with all of her co-workers. He also loves to bark as much as he can!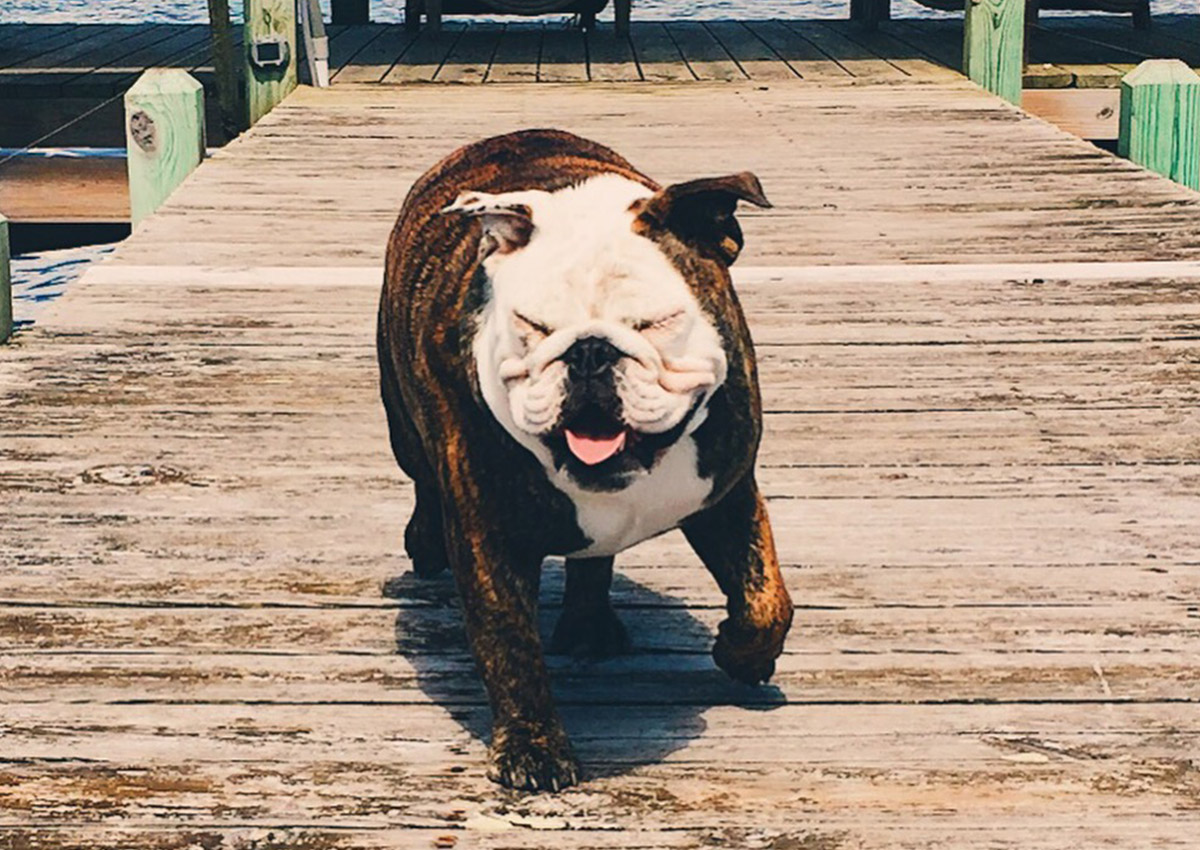 HARLEY – THE MUSCLE
PARENT: JORDAN KARCHER
Harley is an eighteen-month-old English Bulldog. Her favorite thing to do is patrol the kitchen floor looking for scraps of food that anyone has dropped. She takes about three naps a day but loves going on walks. Harley has the biggest personality in the family!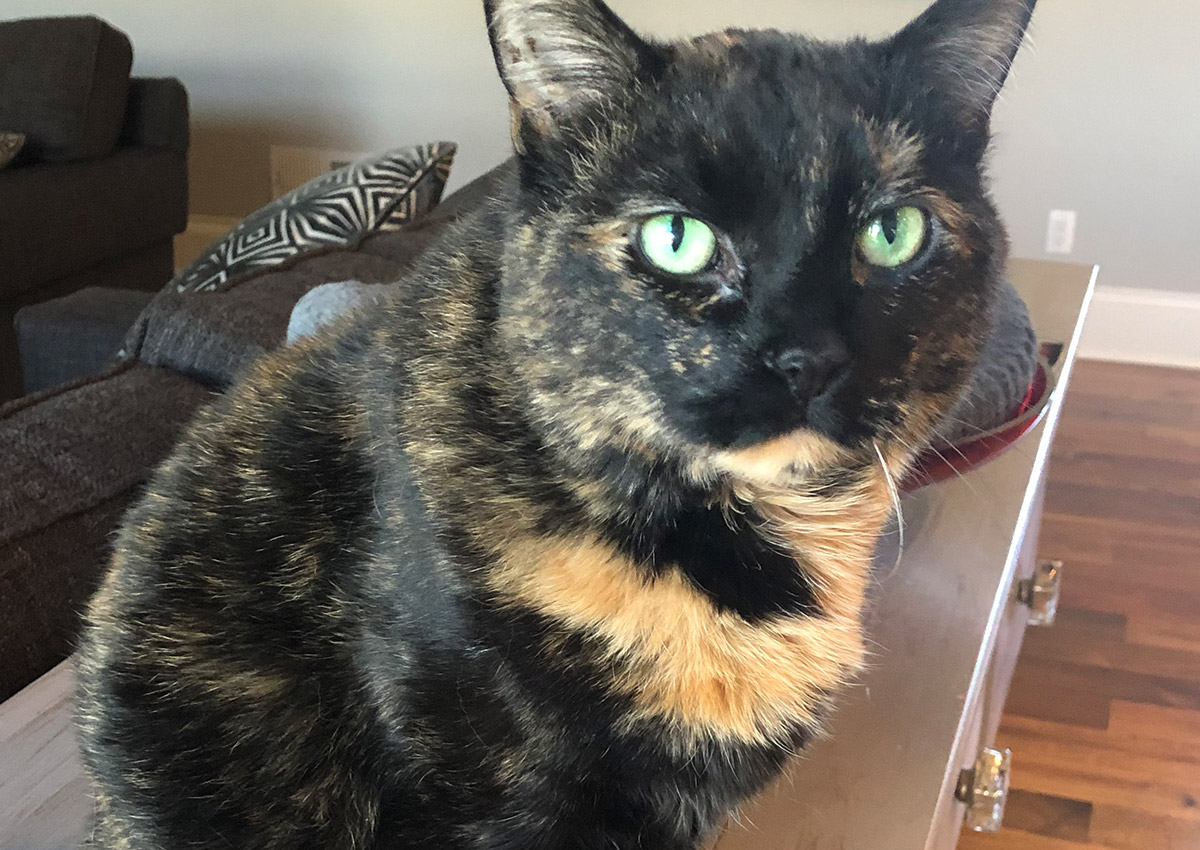 CHLOE – THE GOLDEN GIRL
PARENT: AMANDA HOFFMAN
Chloe is a fourteen-year-old Tortie cat with the most beautiful green eyes. She loves to purr and snuggle, but she's become very brazen in her old age and likes to jump on the counter and eat just about any type of people food that is available, even nachos! She isn't too thrilled with her new puppy sister and throws a mean right hook with her paw.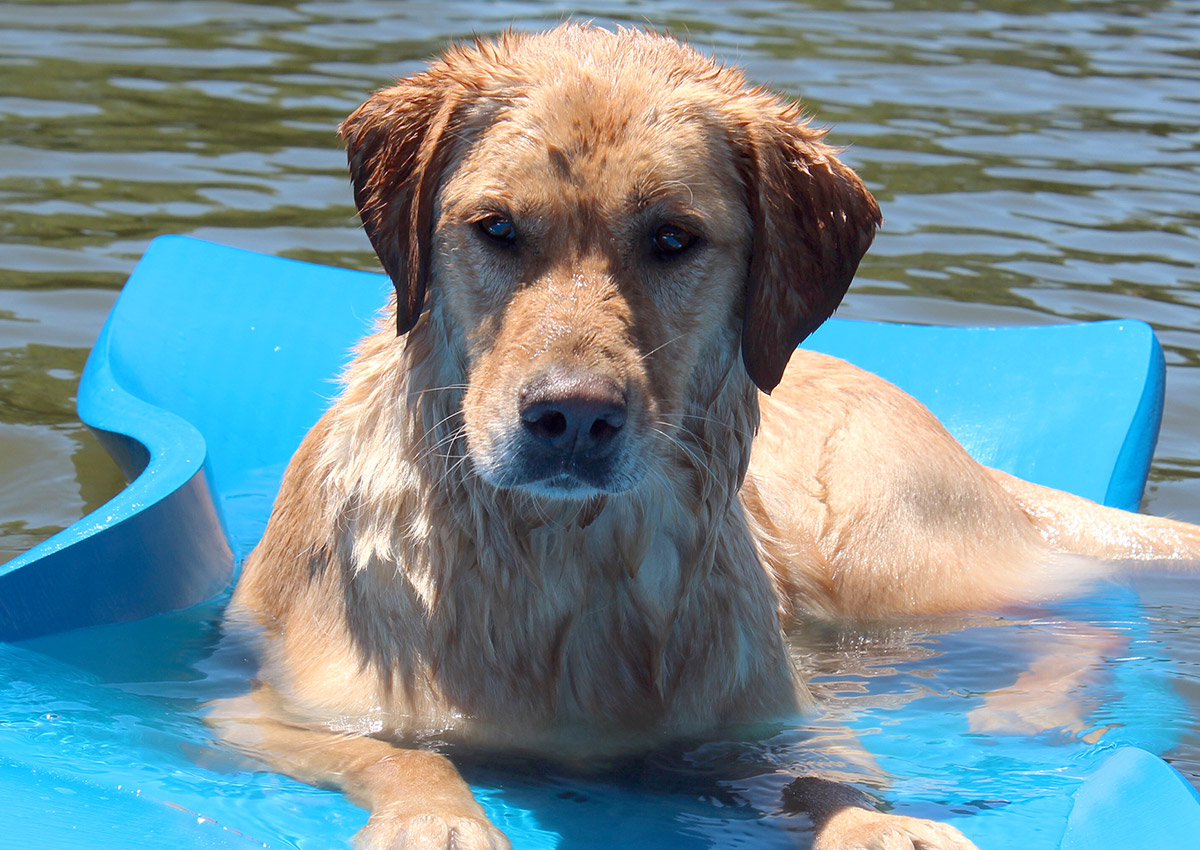 KEVIN – THE STINKER
PARENT: TAYLOR EQUIHUA
Kevin is a five-year-old Yellow Lab and he's named after Kevin McCallister from Home Alone. His hobbies include sleeping, swimming, and taking long walks by the lake hunting for fish. Kevin's talents include unlocking/opening the sliding glass door with his nose, popping the screens out of windows, and pooping in his mom's shoes. No that's not a typo. Kevin brings lots of love and laughter to his family on a daily basis!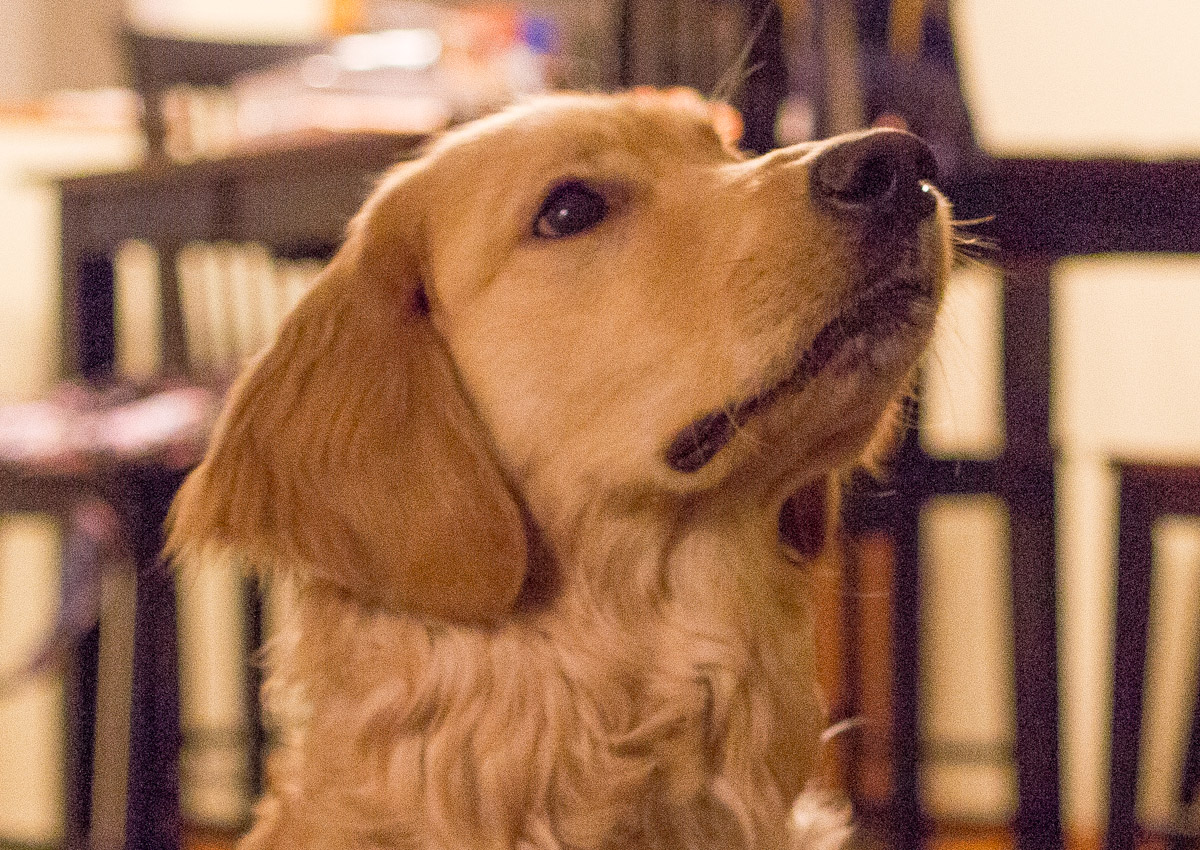 MAX – THE BOY NEXT DOOR
PARENT: NICK KRUEGER
Max is a one-year-old Golden Retriever. He has the biggest heart and loves everyone and everything. Max tries to eat just about everything including furniture, legos, socks, and toys. He's a snuggler and will climb right up on your lap, whether he's invited or not.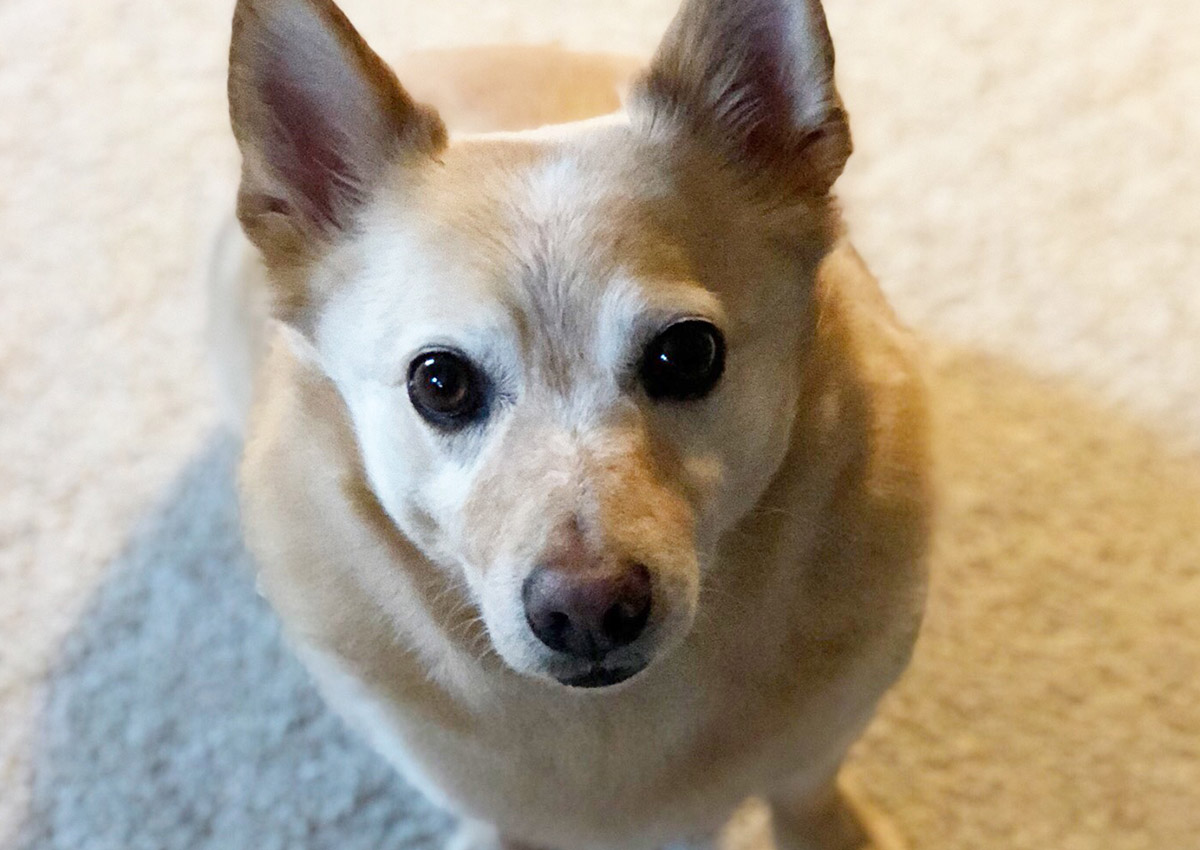 NACHO – THE EXPLORER
PARENT: AMY SACKRISON
Nacho is an eight-year-old Corgi-mix. He loves long walks, playing fetch, and giving high-fives. He is also a tiny hoarder of toys. He likes to take naps with his kitty siblings.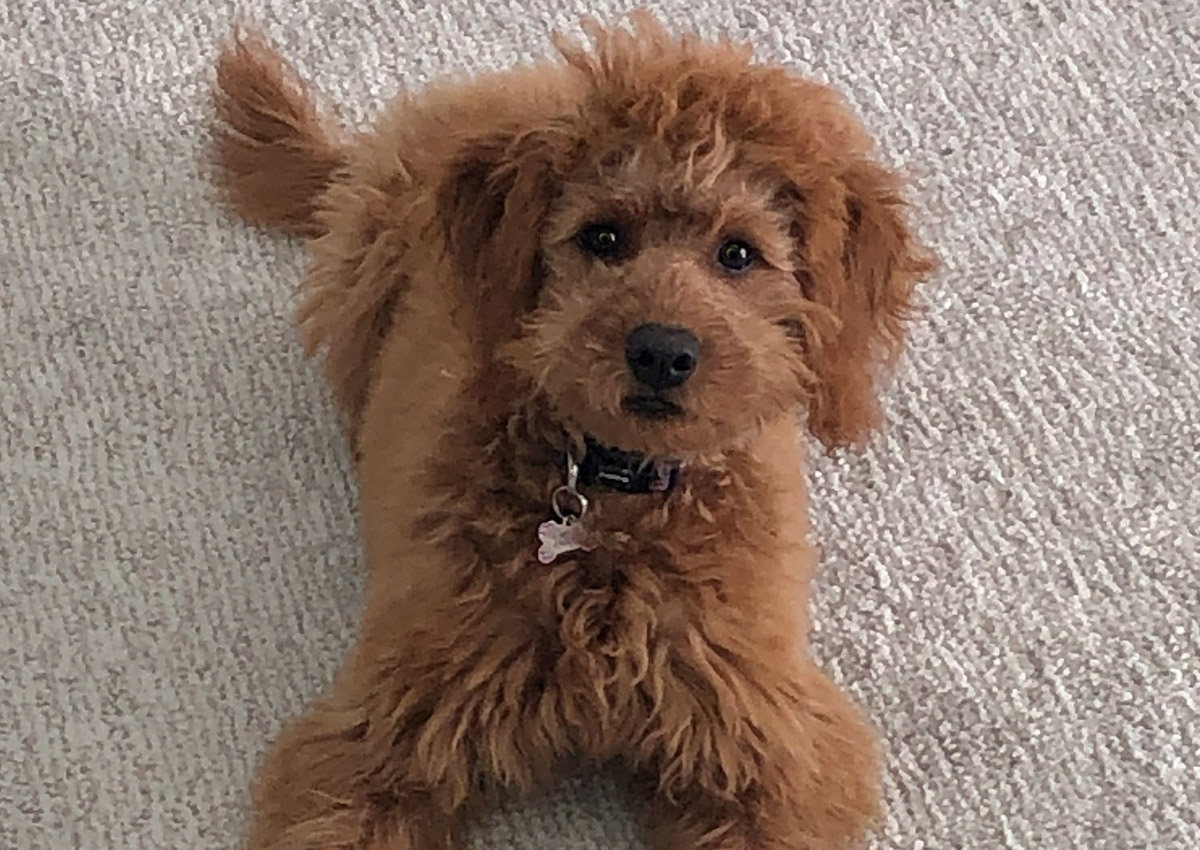 NELLIE – THE RASCAL
PARENT: AMANDA HOFFMAN
Nellie is a six-month-old, spunky Mini Goldendoodle. She has a tendency to get herself in a little trouble, but is the best snuggle buddy around. She loves digging in the mud, going for walks and rides in the car. She also loves chasing after her human brother and sister and being a sleepy-headed teenager in the mornings.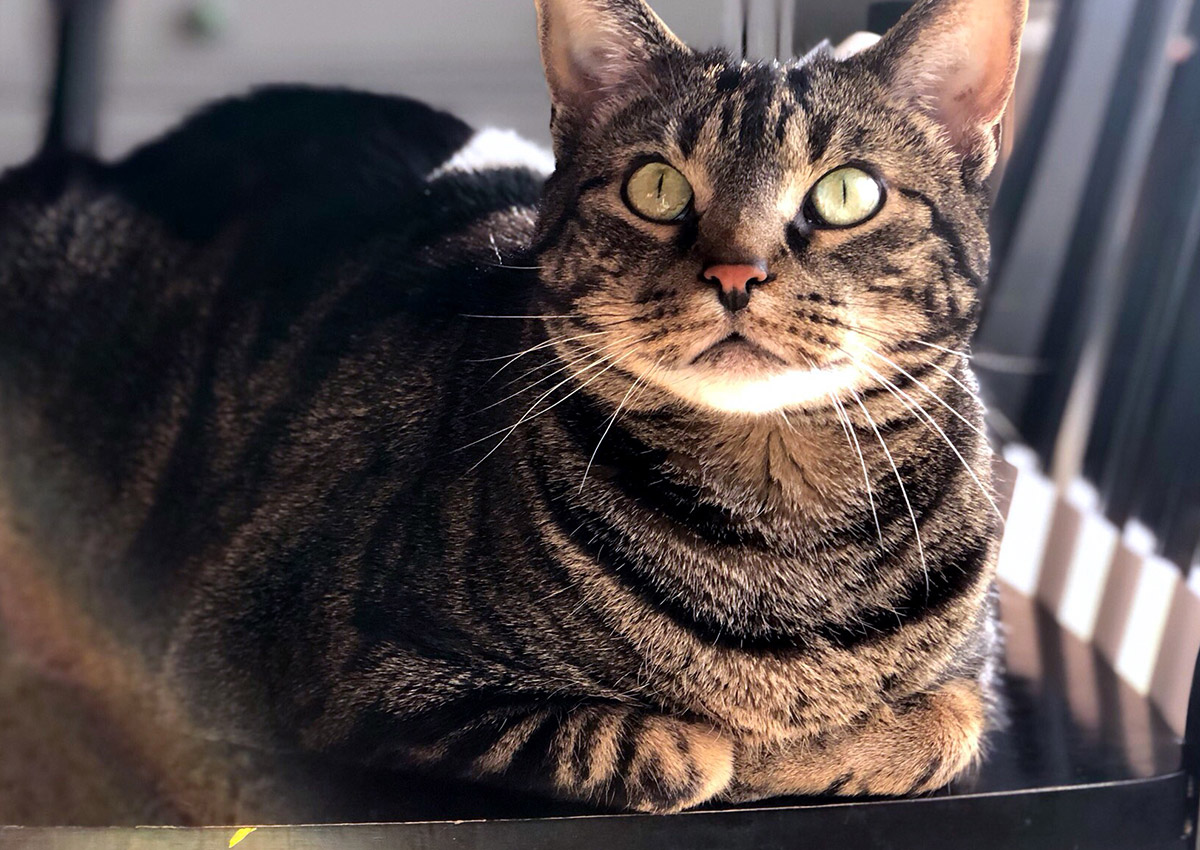 TWIX – THE LOOKOUT
PARENT: AMY SACKRISON
Twix is a seven-year-old striped Tabby cat. He is very outgoing and friendly, and a curator of baskets. He enjoys sitting in high places to watch everyone below. He LOVES to be wrapped in blankets and will sleep for hours!

SIMON – THE BIG SHOW
PARENTS: JULIE AND CURT SELBY
Simon is a gentle giant, unless he believes his family is under attack! He is fourteen years old and is still going strong! Simon weighs 90 lbs, but has always thought of himself as a lap dog.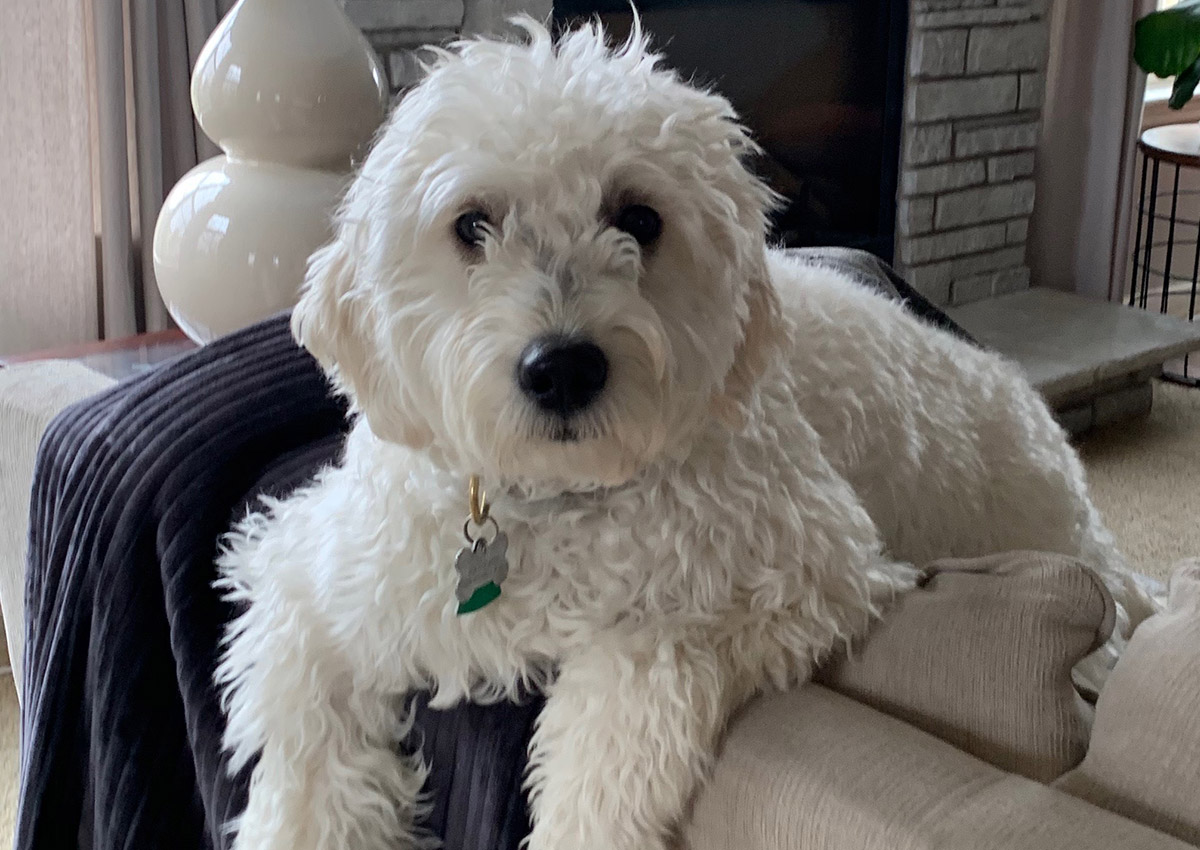 SUNNY – THE OLD SOUL
PARENT: KELLY KARCHER
Sunny Sunday is a seven-month-old Mini Goldendoodle who is adored by her family and just about anyone who meets her! She follows her mom EVERYWHERE. She loves to play tug of war with her three human siblings and enjoys visits to the Bb Franchise Support Center to visit all her besties!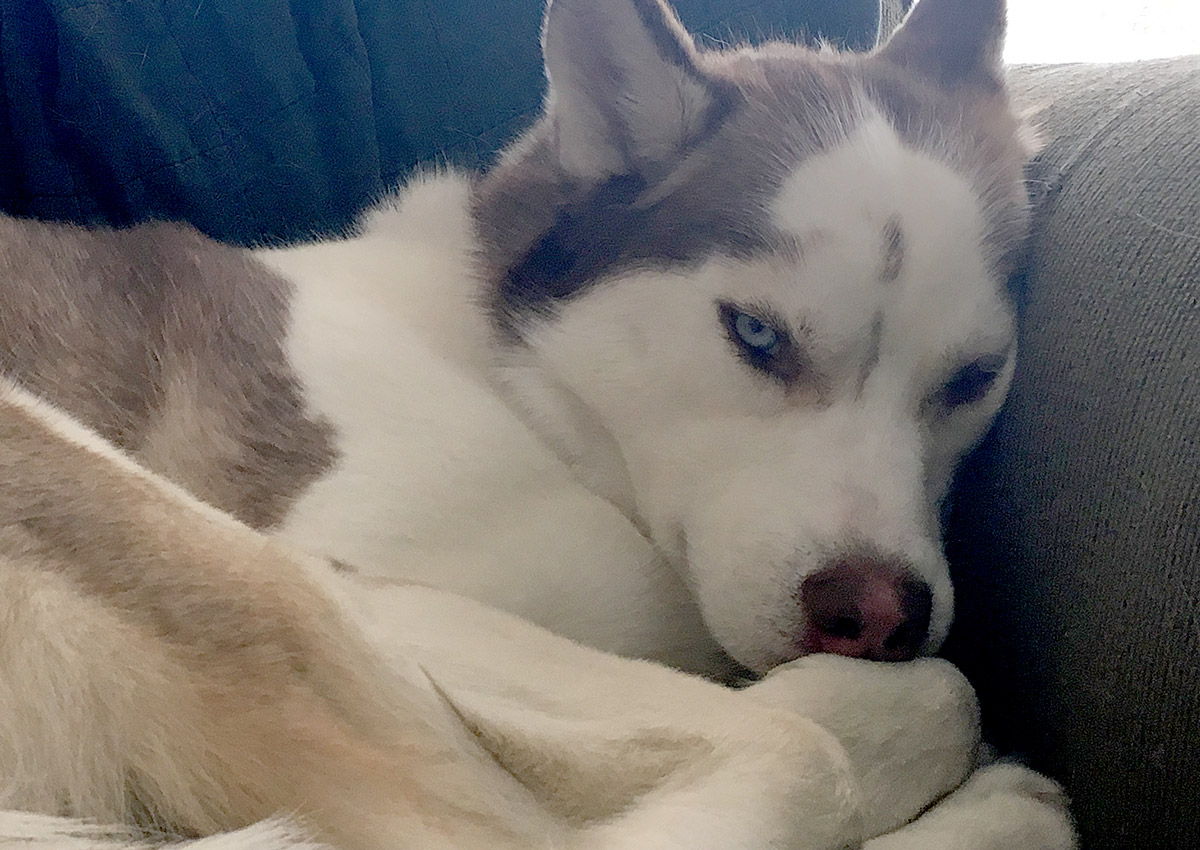 ZEKE – THE GENTLEMAN
PARENT: NICK KRUEGER
Zeke is a three-year-old Siberian Husky, and trust us, he knows how handsome he is. Zeke is very vocal and will often walk around the house howling at his human siblings to let them know what's on his mind. Zeke's favorite thing to do is hunt rabbits in the back yard, but he's a big sweetheart who loves his humans.