A VERY MERRY PERSONALIZED CHRISTMAS
Every year when the holiday season rolls around, families face two familiar challenges. One is, "How can I make my home feel especially warm and welcoming this year?" The other is, "What unique and personal gifts can I get for others?"
When you "shop" at Board & Brush (it's not really "shopping" when you make it yourself) you can meet both these challenges in fun and unique ways.
Personalized gifts for others show an extra degree of thoughtfulness – especially when it's something you create with your own two hands. You can be sure it's something they don't already have, that it's unique to them, and it always fits!
When you create custom projects for your own home, it gives your décor an extra personal touch, with your family name, your kids' names, a special family date, or anything else you can think of. Discover the artist in you and be as creative as you want to be!
Here are just a few of the ways you can personalize your holiday season with Board & Brush.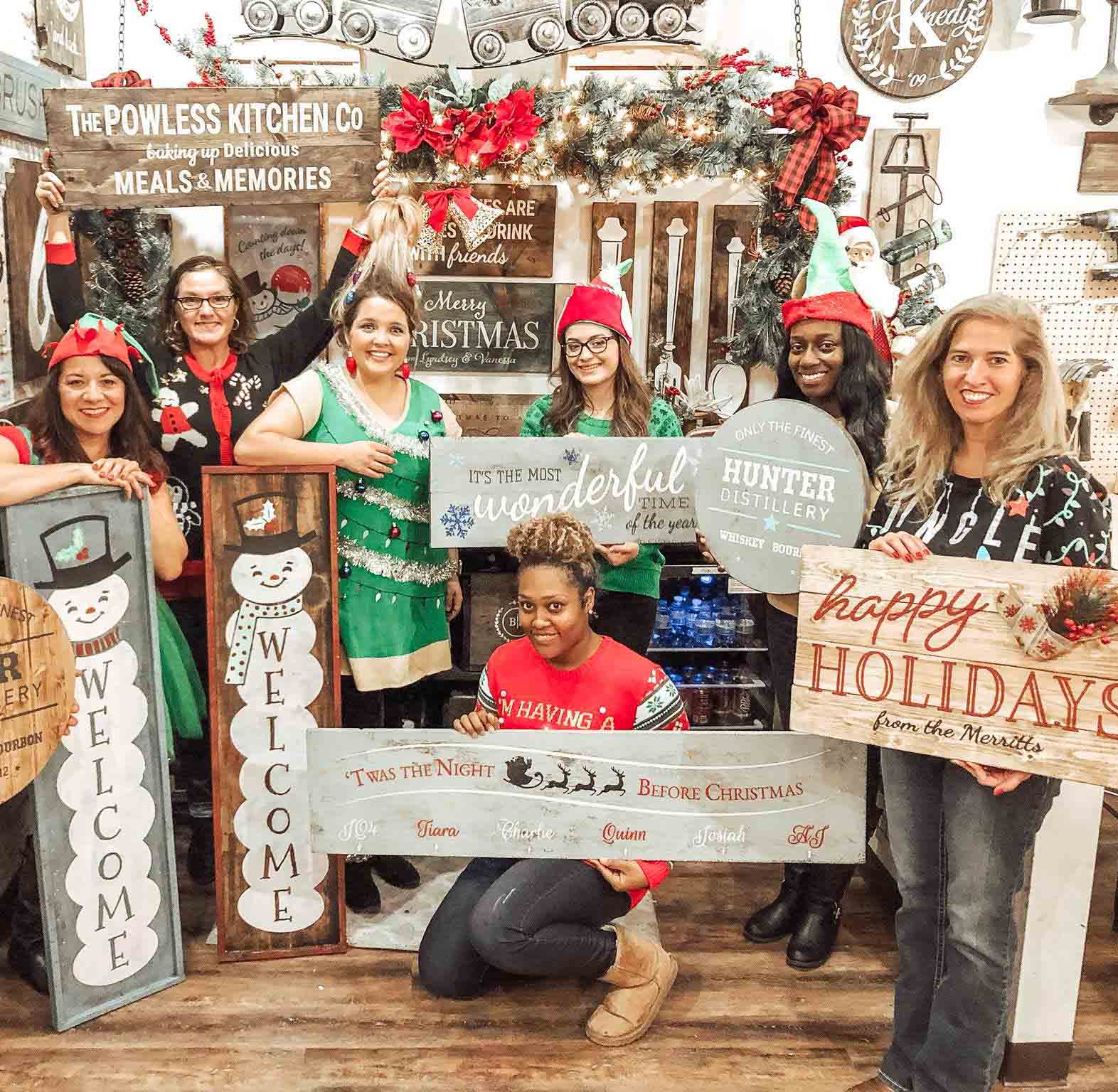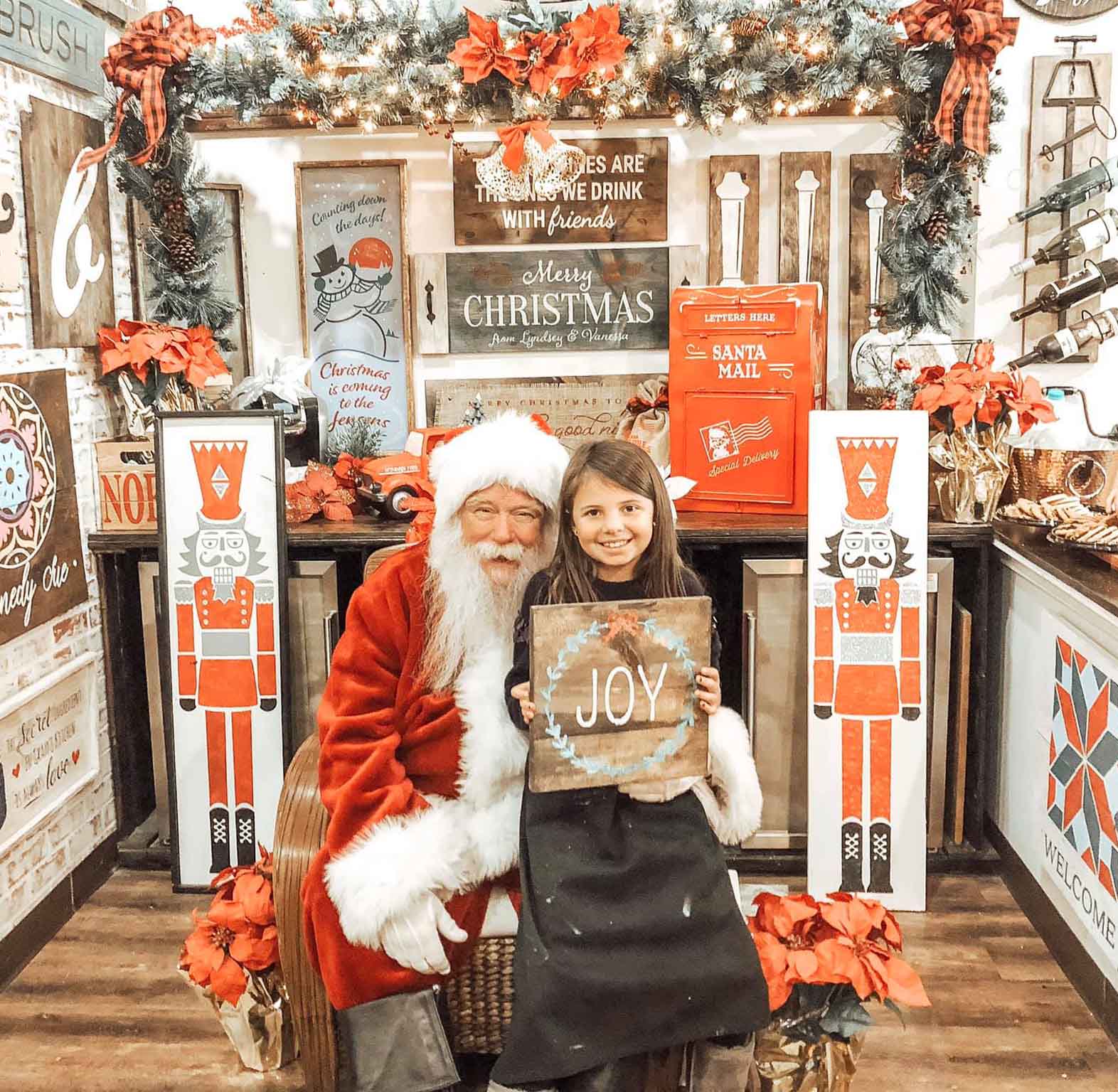 Stocking Holders
What's more traditional than a beautiful row of Christmas stockings hung by the chimney with care? The tradition dates back at least to 1823, when the poem "A Visit from St. Nicholas" (or "The Night before Christmas") was first published. In fact, the began even earlier than that.
But here's the thing: There's no rule that stockings have to be hung by the fireplace. After all, we have dryers now; we don't need to dry our socks on the mantle! And some of us don't even have fireplaces.
That's what makes these colorful, season, personalized stocking holders so perfect! You can place them anywhere you like. You can use your favorite colors and even choose the number of hooks, to personalize each spot for a member of your family or any other special loved one.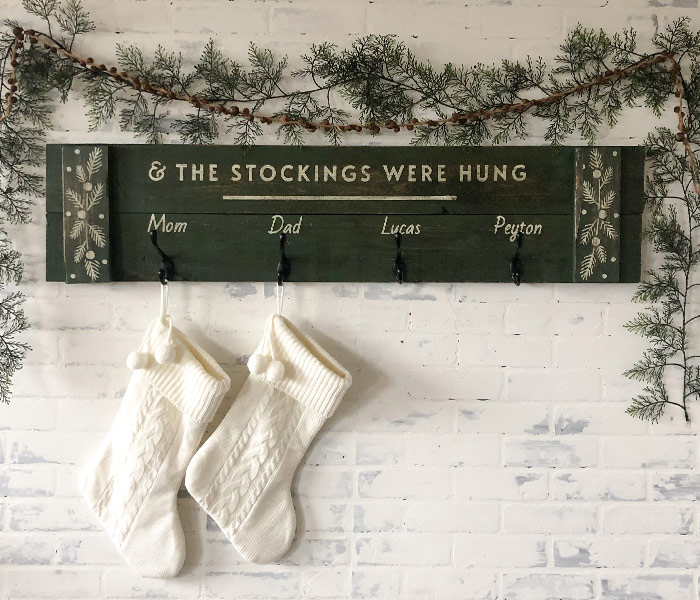 Porch Planters
Looking to make a big impact on your front porch? You can't do much better than a personalized porch planter from Board and Brush. These elegant planters give extra dimension to your entryway, porch or even your fireplace. Our new small planter size is the perfect addition to any little nook! Plus, when you add your family name or home address, you have a true one-of-a-kind piece that your family will cherish for years to come.
This Christmas, we're rolling out some beautiful new designs that can be used as seasonal greenery holders, or even a place to store all of your Christmas cards!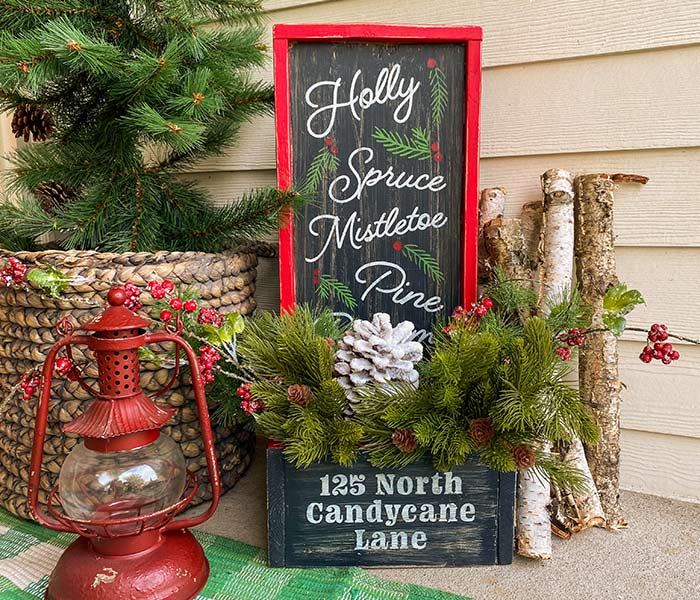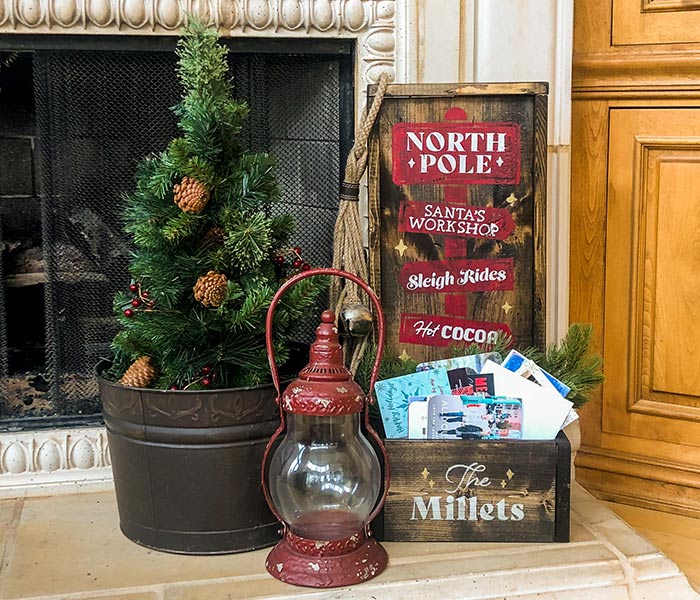 Porch Signs
If you don't have room for a porch planter, or want to make a more subtle impact, a personalized porch sign can do the trick. As always, you can make it your own with the design, colors, and a variety of ways to include your family name or other personal touch.
There's really no limit to the options, including some fun new Christmas and holiday season designs. Why stop at just one? Create a whole gallery with a variety of signs you can change out throughout the year.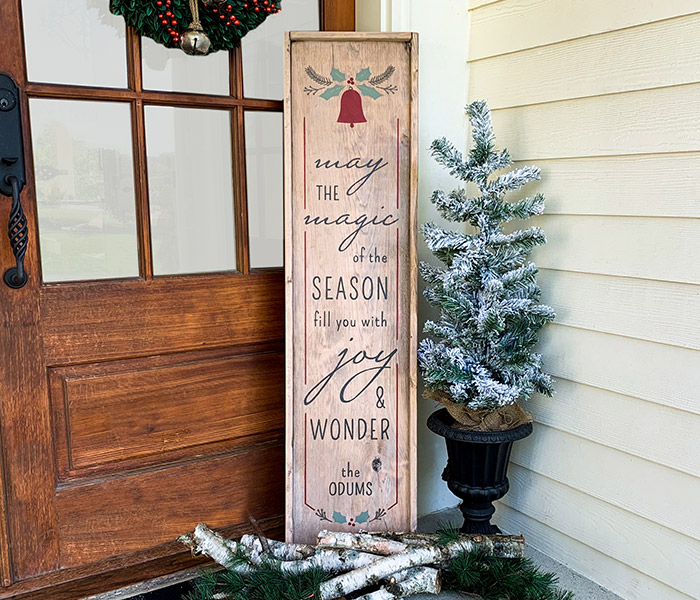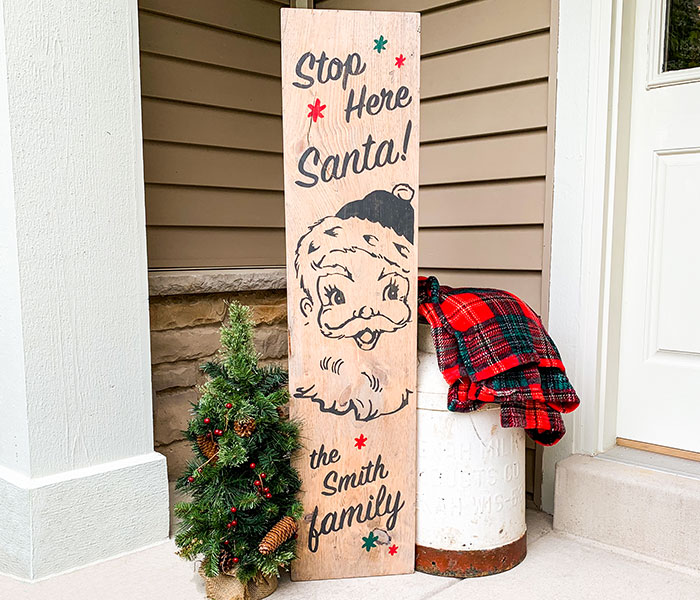 Doormats
A seasonal doormat is a fun, easy way to spice your outdoor entryway for whatever season or holiday you might want to honor. The Christmas holiday season is an especially appropriate time to roll out a special welcome.
Personalized doormats also make great gifts. How many people do you know who have had the same doormat at their house for years? This Christmas, consider surprising them with a gift they can use all year long to give visitors a special welcome to their home.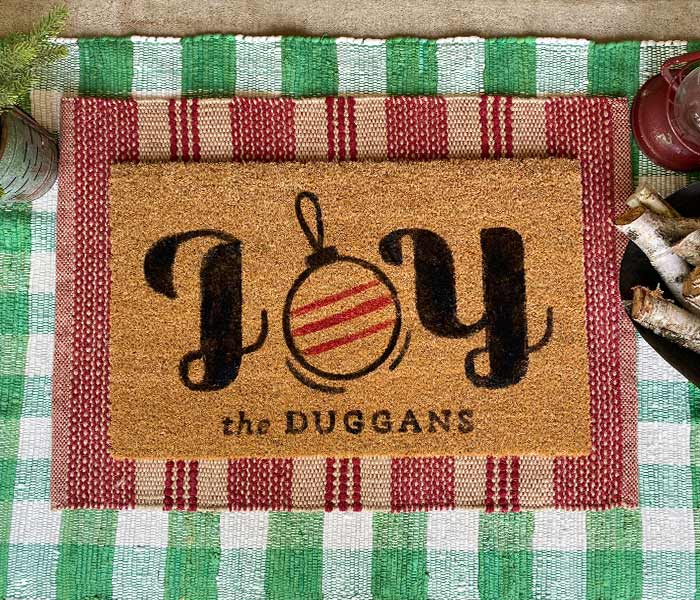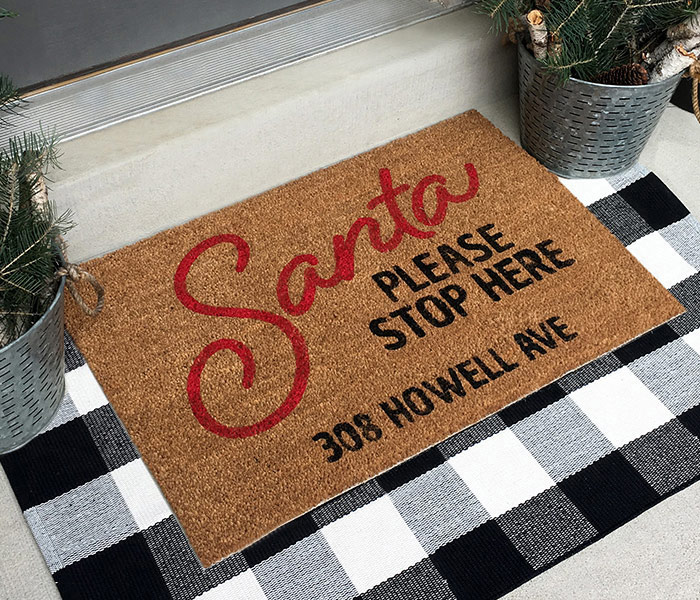 Benches
Whether they're functional or purely for style, personalized wooden benches from Board & Brush can go almost anywhere in your home.
In the breezeway, mud room, or by the front door they provide a place to sit when you take off wet shoes or muddy boots. They can be a place to set the groceries while you take off your coat. On the front porch, they're an extra place to sit and visit with neighbors. Or they can take the place of a small table to display all those cool holiday decorations you just hauled out of the basement or attic.
Or, they can just sit there and look awesome, giving your home a warm, personal touch while providing no "practical" use at all!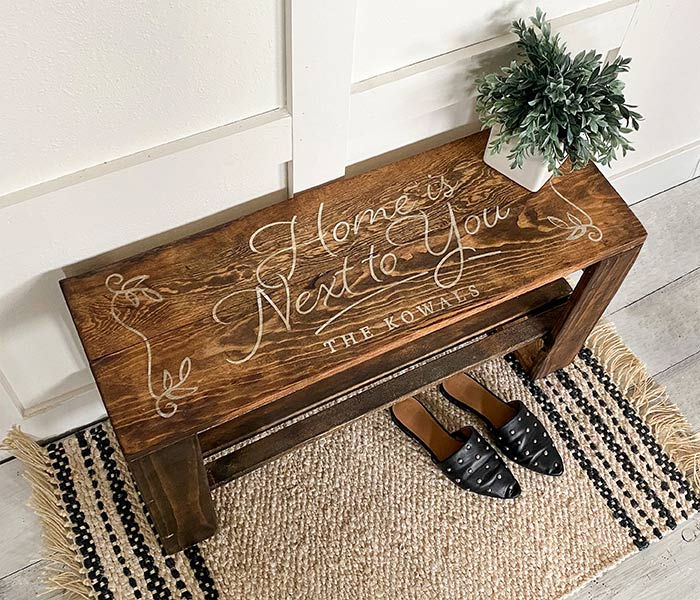 Do it Yourself – or Let Us!
The best, most fun way to get a personalized project in time for Christmas is to make it yourself at a Board & Brush Creative Studio near you. Find a studio near you to schedule a workshop soon!
Or, if your local studio is not yet fully open for business, visit our new "Shop Local" site to place an order for pickup!