Create a DIY Backyard Game with Board & Brush
There's no getting around it: Summertime is great! Kids are out of school, the weather is warm, vacations are on the horizon, attitudes are relaxed. It's everybody's favorite, which is probably why there are so many great songs about summer!
All of that also makes summer a great time to get outside and enjoy your own backyard. One way to make the most of your personal summer playground is to create a DIY backyard game with Board & Brush. When you sign up for a specialty workshop for backyard games, not only do you come away with a fun, personalized game your whole family can enjoy, you get the added satisfaction of making it yourself.
Need some great DIY backyard game ideas? You've come to the right place. Here is a list of the best backyard games you can create and personalize at a Board & Brush Studio near you, including the king of backyard games, a DIY cornhole board.

Ring Darts
A backyard twist on a classic dart board. Toss rings at the board, catching different hooks for different point values. Battle your friends, vanquish your neighbors, or even make up your own games! Then take the rings down and have at it again. Our ring darts design even features an area of personalization so you can truly make it your own!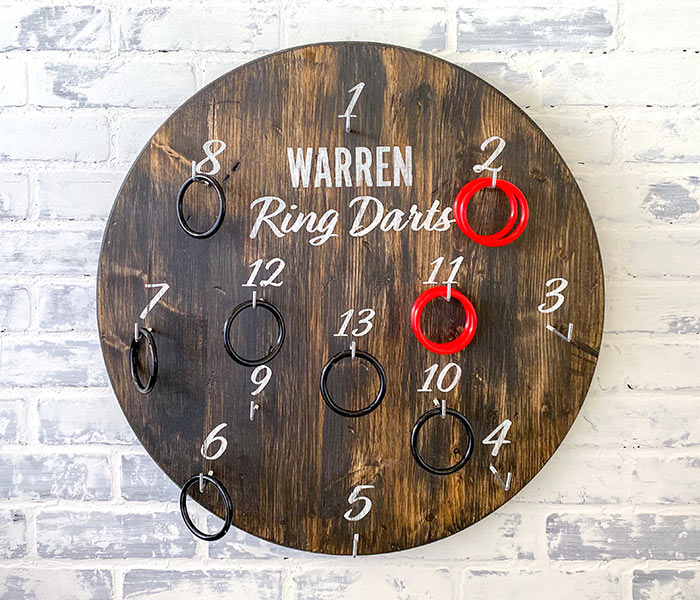 Washer Toss
If you're at that age, you may just remember the classic lawn darts game from the "gold old days." Think of washer toss as a safer, just as fun version of that all-time classic. Instead of lobbing metal darts across the yard into a little yellow circle, you're safely lobbing washers into a wooden box–that you created and personalize yourself. Score 1 point for hitting the outer part; score three for nailing the middle. No matter how you score, everybody wins!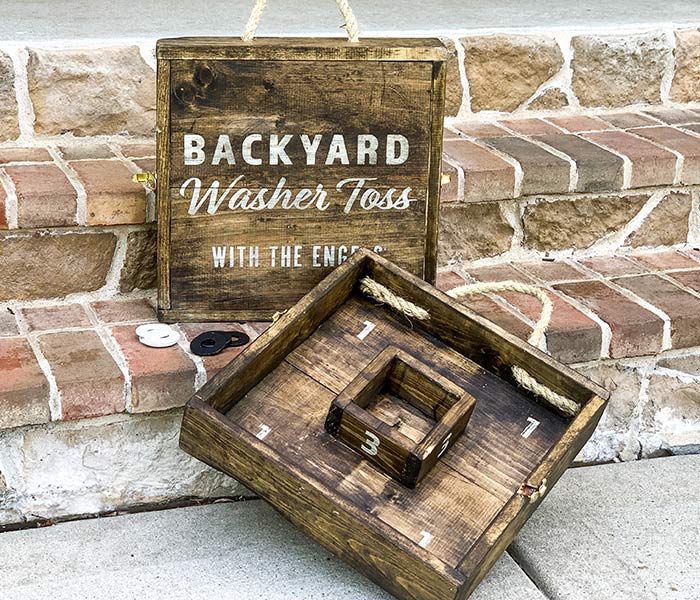 Backyard Dominoes
Another classic game adapted for the backyard and personalized for you and your family! These extra-large, wooden dominoes are just like their smaller counterparts, but perfect for hands of all ages. You can stack them like blocks or play a real game of dominoes. And, of course, you can create your set —and the crate that's included—with your favorite stain & paint colors to fit your own personal taste and style.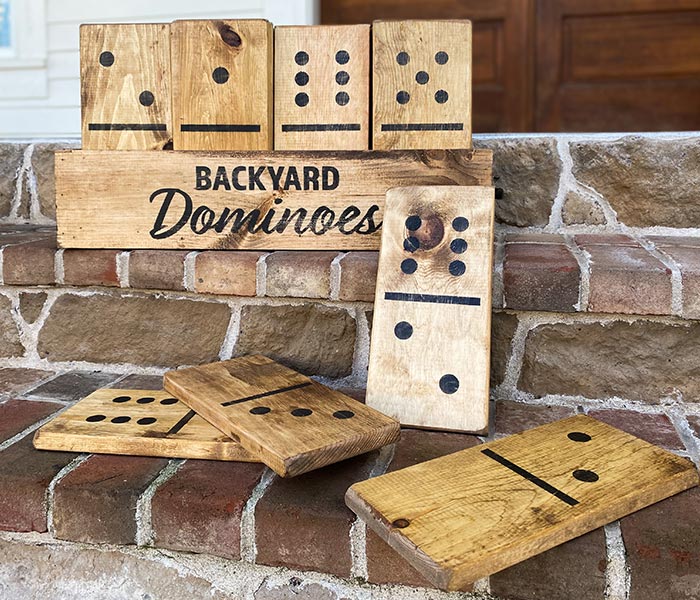 Backyard Tower & Crate
Stack them up and pull them out, one by one, until they all come tumbling down. If you're the one who makes the tow of blocks fall, you lose! This giant version of the classic party game is great for backyard fun. Each set comes with its own crate, so you'll always have a place to keep your tower between battles. Best of all, you add your own DIY touch by choosing your stain & paint colors —and make it your own with a variety of available personalized designs.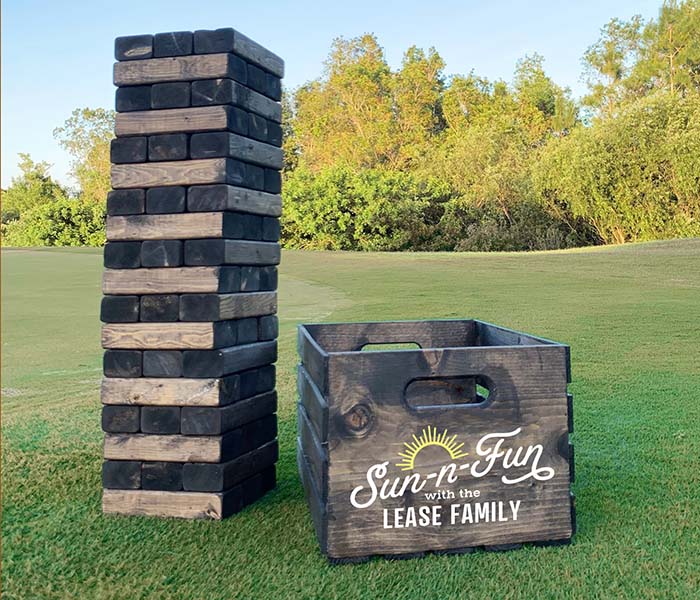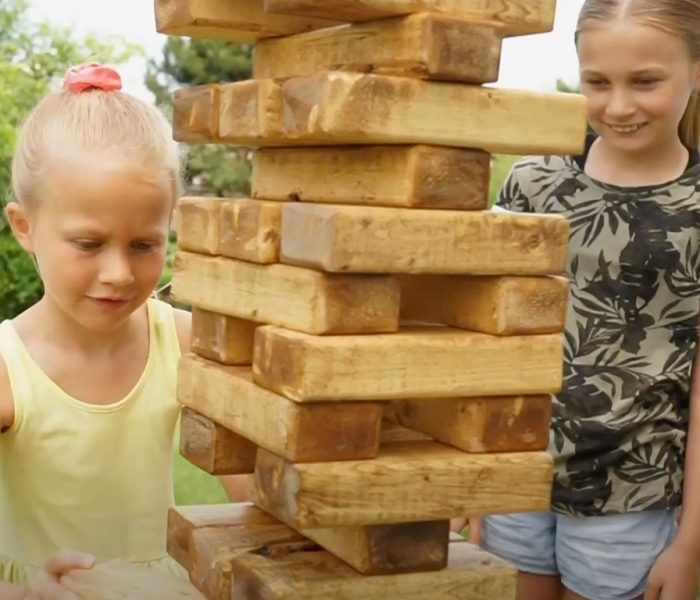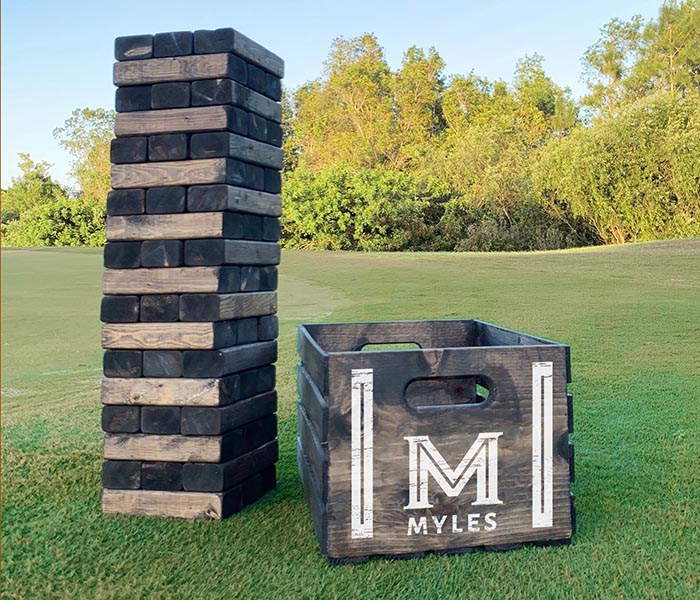 Ring Toss
This one is harder than it looks! Challenge your friends to swing a ring on a sting onto a hook mounted on the wall. Remember, practice makes perfect! Be ready to show off your skills when bragging rights are on the line. And when there's no game in action, it doubles as a convenient wall-mounted bottle opener. After all, it's important to stay hydrated when you're working up a thirst competing against your friends, family, and neighbors in backyard competition.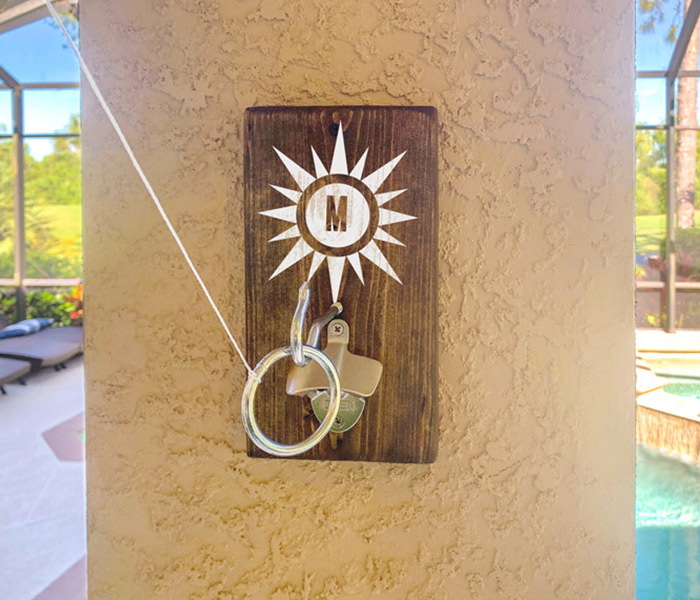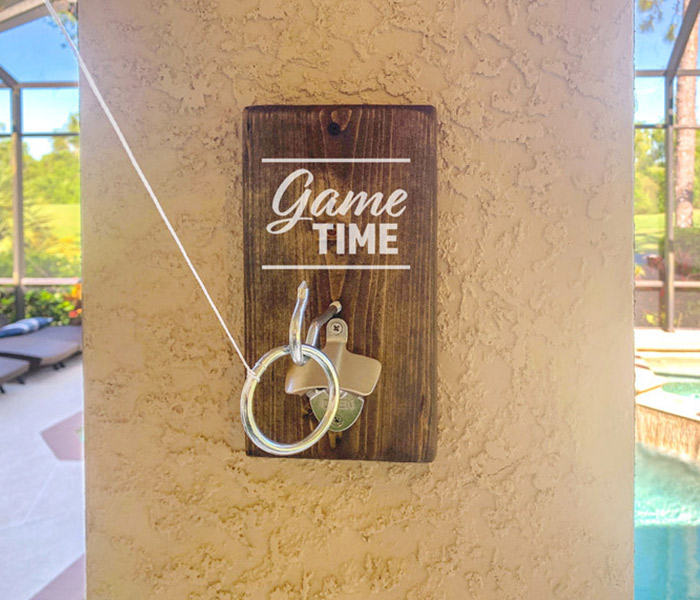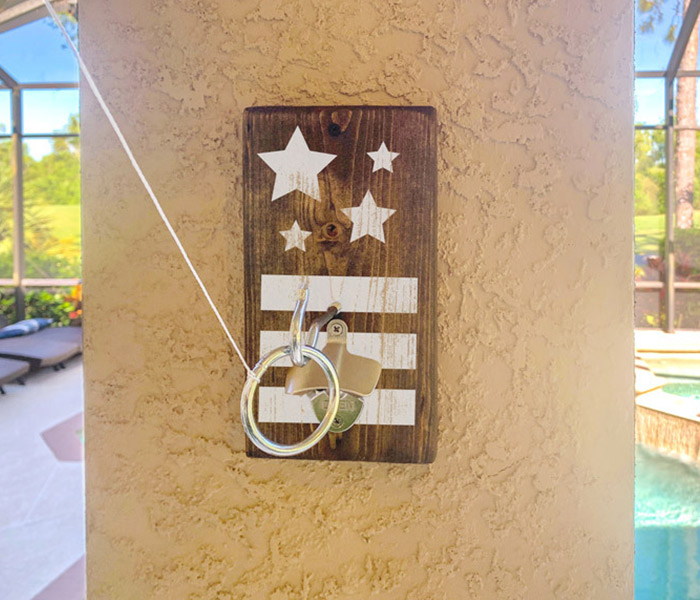 Backyard Dice
Three-of-a-kind. Four-of-a-kind. Full house. Small straight or large straight. No, it's not poker, it's the backyard version of the classic dice game! Roll the dice, pick your best, then roll again. Play it right, rack up the most points, and win it all. But you don't have to play by the scorecard. Use these sturdy wooden dice for a backyard version of your favorite "bar dice" game, or any other dice game you know. The only rule is that you have fun! When the party's over, pack them up in your personalized crate or tote bag. Either way, you can choose from a variety of designs to reflect your own unique style.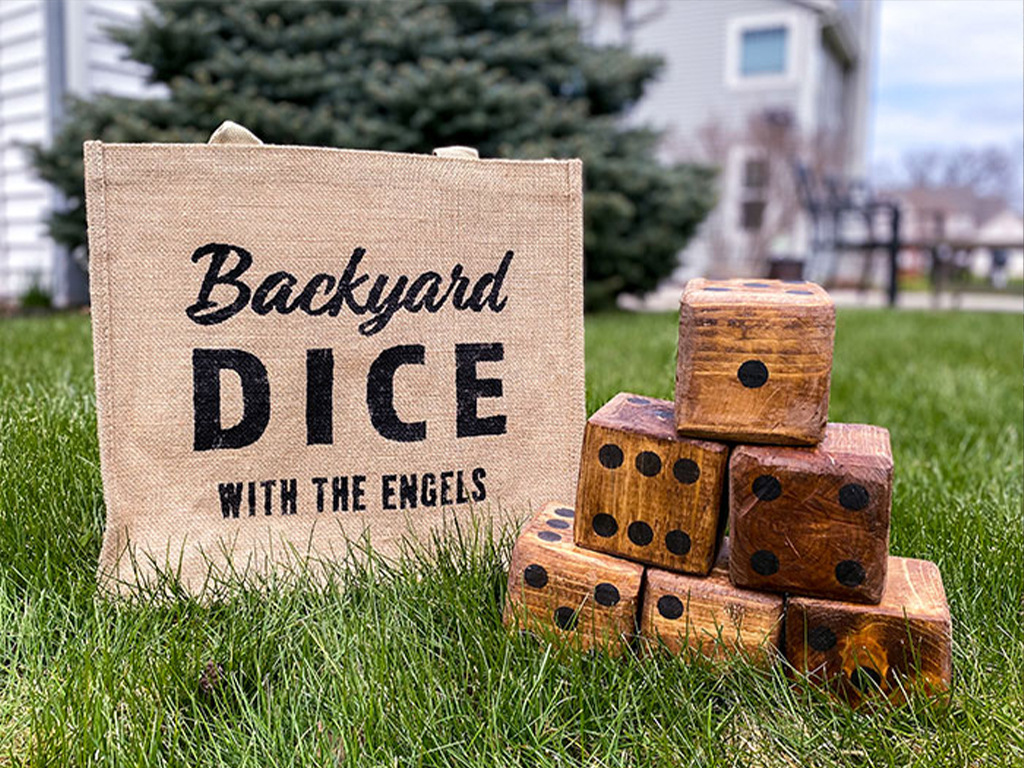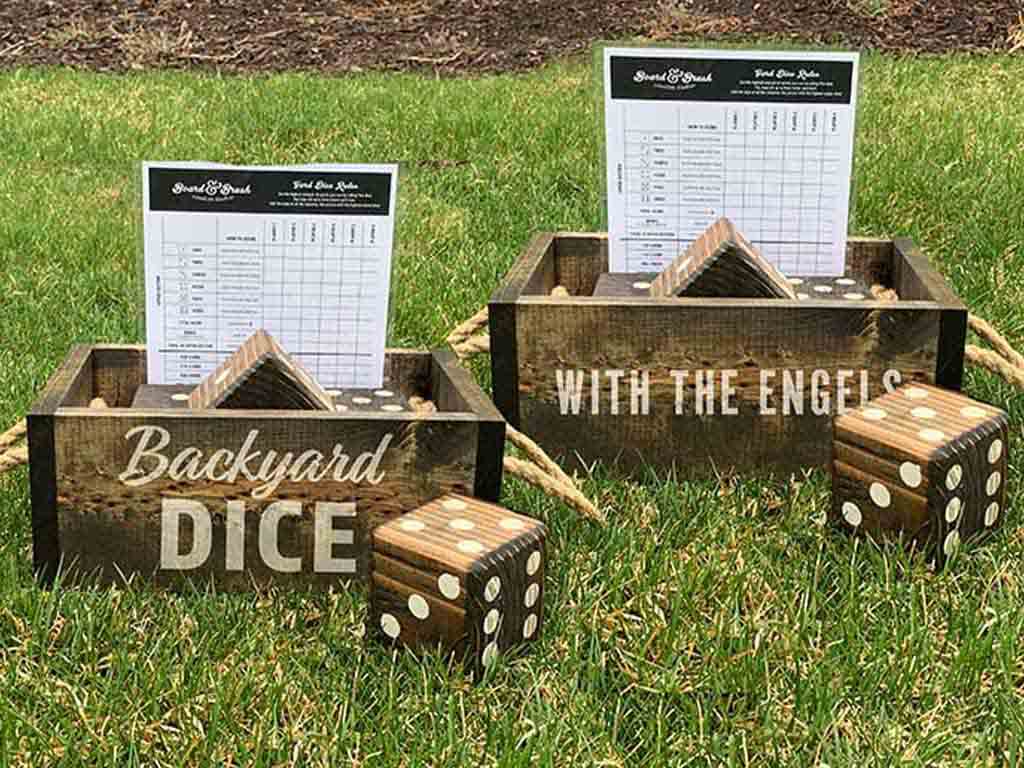 And now we come to the all-time class backyard game! Where others aim to entertain and amuse, this backyard behemoth is perfect for serious competition. Looking to crown the king of the backyard barbecue—or the queen of the family reunion? A few rounds of cornhole are sure to fit the bill. This game of skill is great for players of all ages and skill levels! Put the targets as close together as you like for kids and beginners, or stretch it to the regulation 27 feet (front edge to front edge) for serious match-ups. No matter who wins, fun will be had by all!
Board & Brush has so many different ways to make your DIY cornhole board your own. Choose from some 20 different designs, many with monograms or family names, and then add your own personal touch by choosing your stain and paint colors! These are durable, high-quality boards built to withstand years of use and fun family competition. Just what you need to add more friendly competition to any backyard gathering.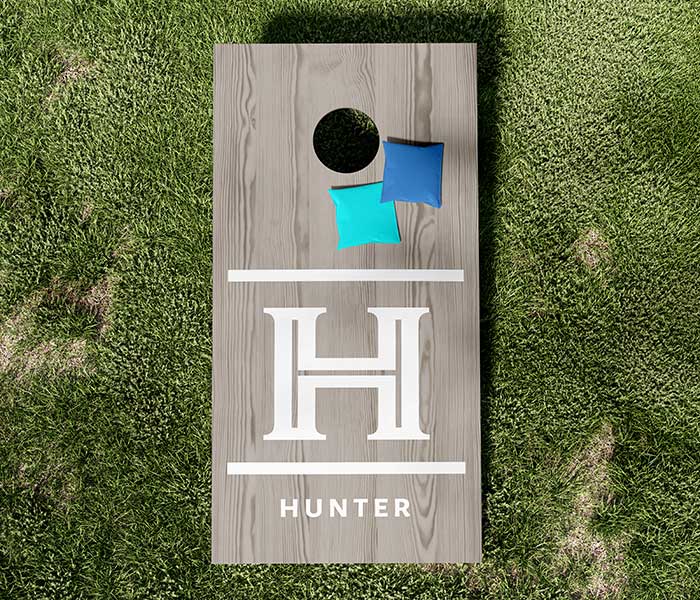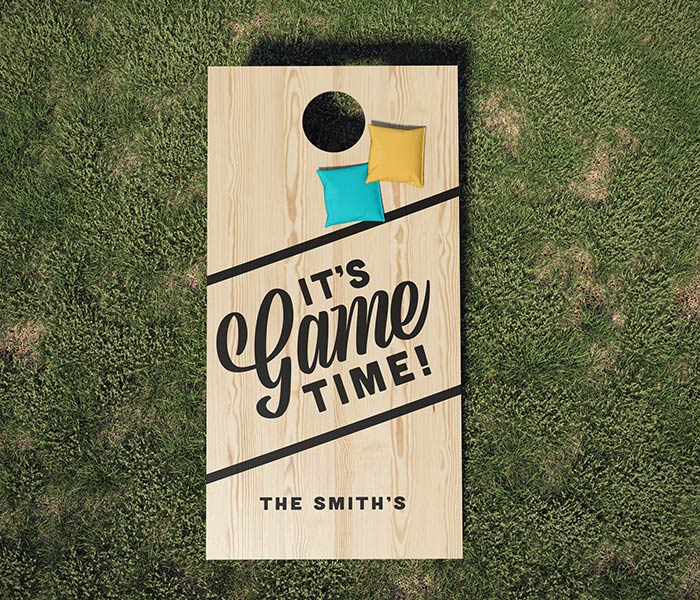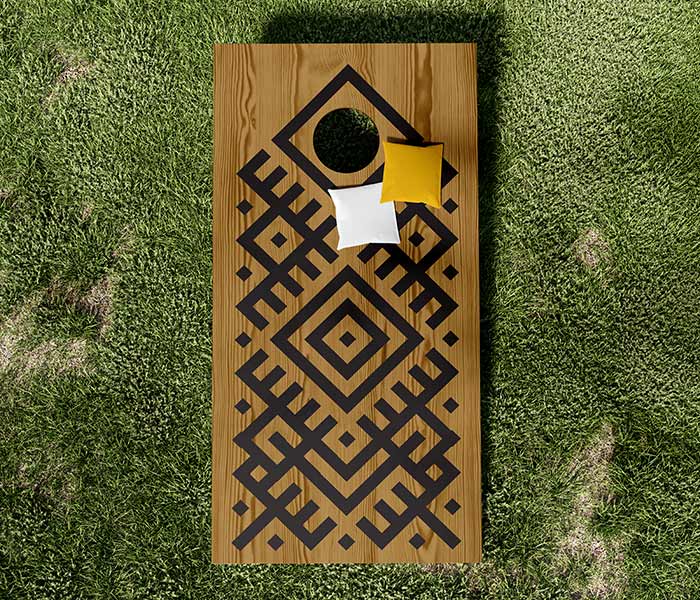 Let's Do-it-Together
Now is also the perfect time to visit a Board & Brush Studio near you and take part in a specialty workshop. It's time to start enjoying each other's company and creating beautiful things together again!
To sign up for a specialty workshop, contact your local studio and find out what's available. Once you schedule a date and time, you'll be able to go online and browse our extensive gallery of designs. You'll make your basic choices ahead of time and choose more of the details during the workshop. You'll have the experience of distressing the wood, sanding, and choosing the stain and paint options exactly to suit your tastes and preferences. Our DIY instructors will be there to guide you every step of the way! When you're done you'll have a true one-of-a-kind creation to enhance your backyard living.
If you'd prefer to choose a premade piece or do-it-yourself at home, just visit our Shop Local page to shop for a wide variety of premade signs, boxes, trays, porch signs, @HOME KITS, and more!