Color Trends for 2023
As we look to the months ahead and all the design trends that will surely come, we are so intrigued to see which colors will be the standouts of 2023. When designing your space (or creating your DIY projects!), it's important to always choose colors that bring you joy. It's your home, after all! But if you're struggling with where to start in your design journey or you just need a little inspiration, allow us to present you with our color trend predictions for 2023.
Overall, we think the color theme of 2023 will be very natural, organic, and warm. We've seen people begin to once again prioritize comfort and coziness in their homes, and color choices will likely align with those priorities.

Rich Browns
In previous years, we've seen gray become the standout choice when it comes to neutral. While gray is a classic color that will never truly go out of style, this year, we are predicting that shades of brown will take over. The color brown is not only a rustic, earthy color, it also invokes a feeling of warmth. At Board & Brush, we anticipate seeing a lot of customer projects left with stained wood and no painting techniques to allow for added richness in their home. We anticipate our Walnut, Early American, and Bb Blend stain to be popular, as well as our coffee and khaki paint colors.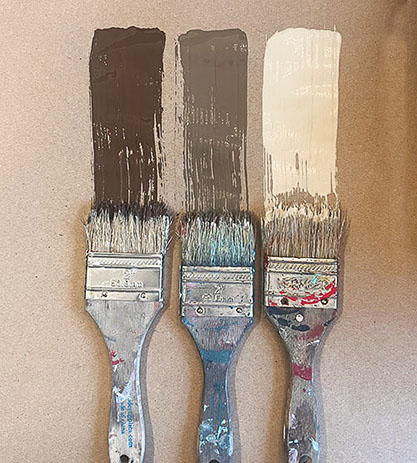 Earth Tones
Inherently, earth tones make us feel grounded and more connected to nature. Colors like ivy green, sage, rust, and terracotta inspire feelings of calmness, which people will be desiring for their homes throughout 2023. For a bonus, consider adding textured pieces in these color tones. Design elements like linen drapes, velvet pillows, and leather accents, and wooden frames can be an excellent source of texture. (Hint: a wooden Board & Brush project featuring earth tones is an excellent way to bring in the perfect touch of texture!).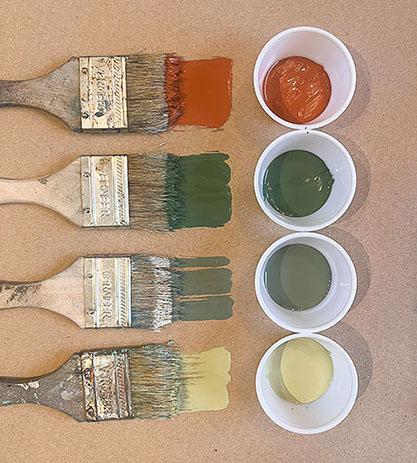 Jewel Tones
Perhaps you've heard of the term "jewel tones"…but what exactly are they? Jewel tones are colors that are derived from gemstones such as Amethyst, Sapphire, Ruby, and Emerald. We've seen a new craving for color post-pandemic when people wanted to refresh and breathe new life into their homes. Jewel tones are an excellent way to bring color to your space without it feeling too bright and bold. These colors provide richness, elegance, and even a note of drama to any room. Consider mixing jewel tones with brown wood tones to create a standout space.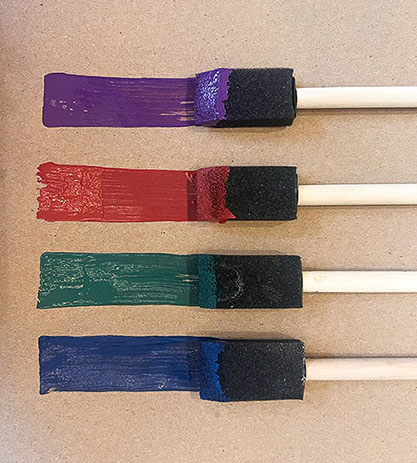 Bright Pops of Color
While we anticipate browns, jewel tones, and earth tones to be the most popular colors in home design, we also think we will see fun pops of accent colors when possible. This year, Pantone even named "Viva Magenta" its color of the year, calling it "an unconventional shade for an unconventional time". Like magenta, we think we will see other vibrant colors make their way into home décor – like peach, mustard, and sky blue. We recommend using these bold colors as accents to compliment your more subtle tones. When introducing bright colors into your space, oftentimes less is more!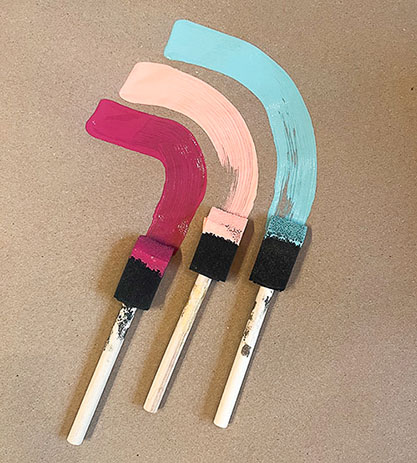 At Board & Brush, our 'Paint Bar' is filled with all the colors you could want for your DIY project. So whether you're looking to follow current design trends or start your own, you're free to let your creativity run wild at our workshops.