Curate the Perfect Charcuterie Board this Holiday Season!
If you've been to a party recently, you probably enjoyed some type of charcuterie board! There's just something about a delicious collection of sweet, savory, and salty snacks that guests love to graze on at a gathering. Our favorite part about making a charcuterie board is that there are no specific rules. You can add your favorite elements, leave off things you don't care for, and get creative with it!
What exactly is a charcuterie board? Essentially, it's a display of cured meats, cheeses, and accompaniments that pair well with them like fruit, nuts, spreads, and more. All of the yummy items are usually displayed nicely and are made easy for guests to easily grab and enjoy.
With the entertaining season officially upon us, we are going to share our favorite tips for creating the ultimate charcuterie! Remember, these are just our favorite tricks, but you can absolutely get creative with your choices and layout.

Head to the Store!
The first step in the process is to head to your local store to pick out your favorite cheeseboard items. Here are a variety of items we recommend:
Cheeses:
We always recommend selecting a mix of cheeses so that you and your guests can enjoy a variety of bold flavors. Mixing textures is great as well! We started with a creamy havarti for a rich, buttery flavor. To contrast, we added a sharp cheddar for a nutty, crumbly option, as well as a smoked gouda for a bold, smoky flavor. In addition to a few different hard cheeses, we always like to add a spreadable option. We chose a spreadable brie, which is creamy and so easy to add to a cracker or slice of bread. Be sure to add a little cheese spreader so guests don't have to dip!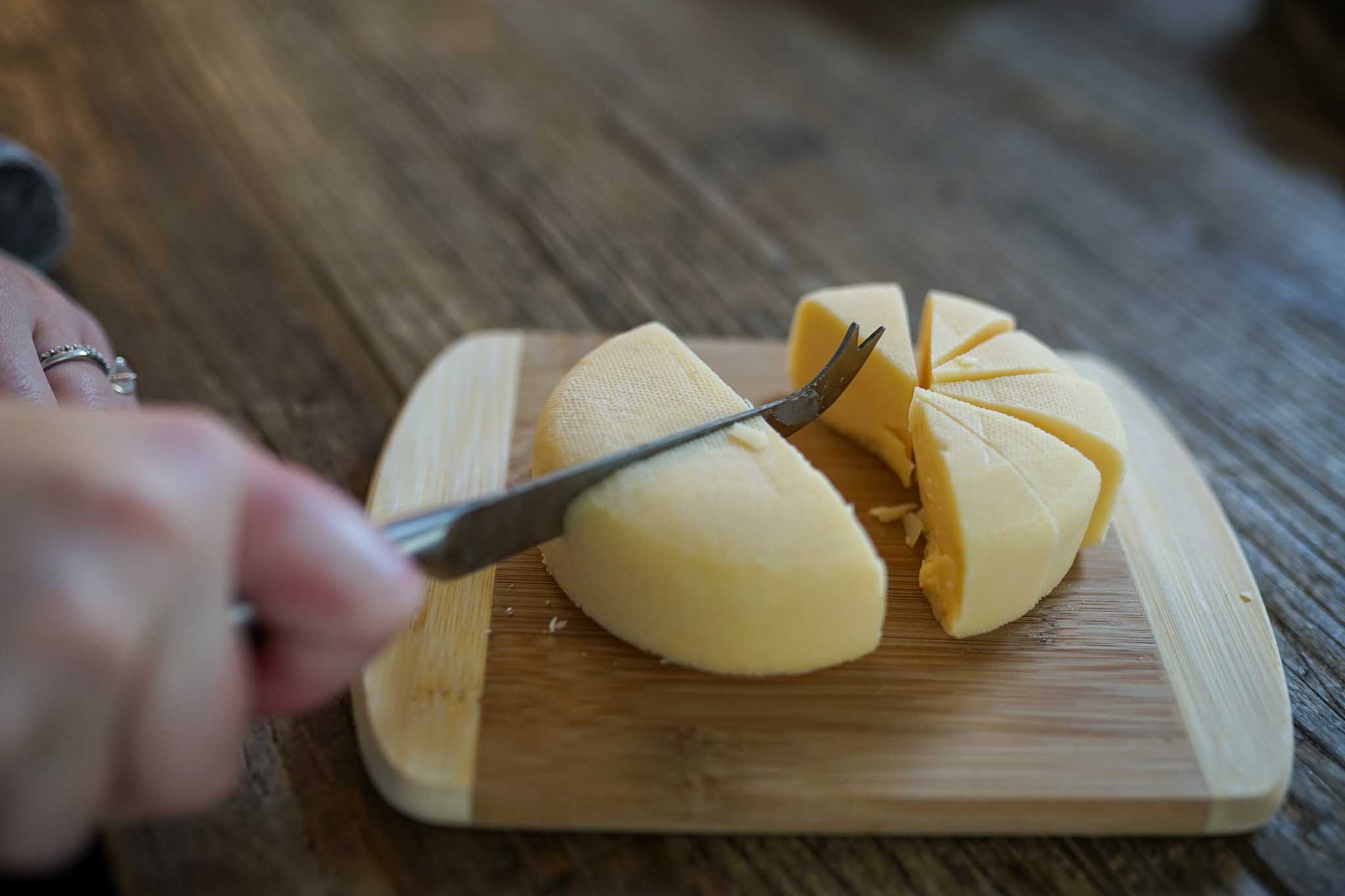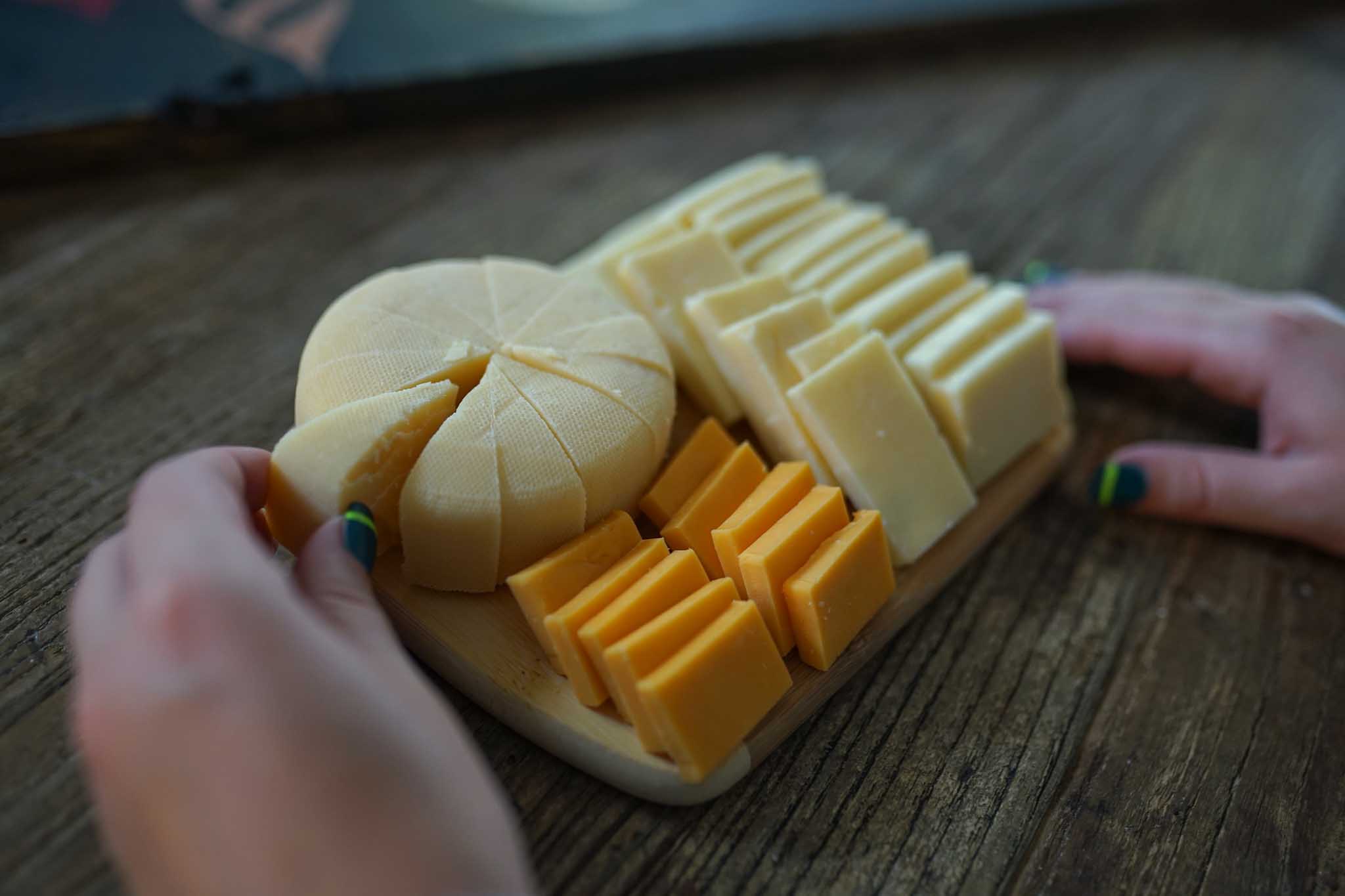 Meats
When it comes to choosing which meats to add to your board, there's no right or wrong answer! We chose a dry Italian salami to compliment the flavor of our cheeses. Some other great options are pepperoni, prosciutto, summer sausage, or capicola. Be sure to buy your meat pre-sliced or slice it yourself into bite-sized pieces!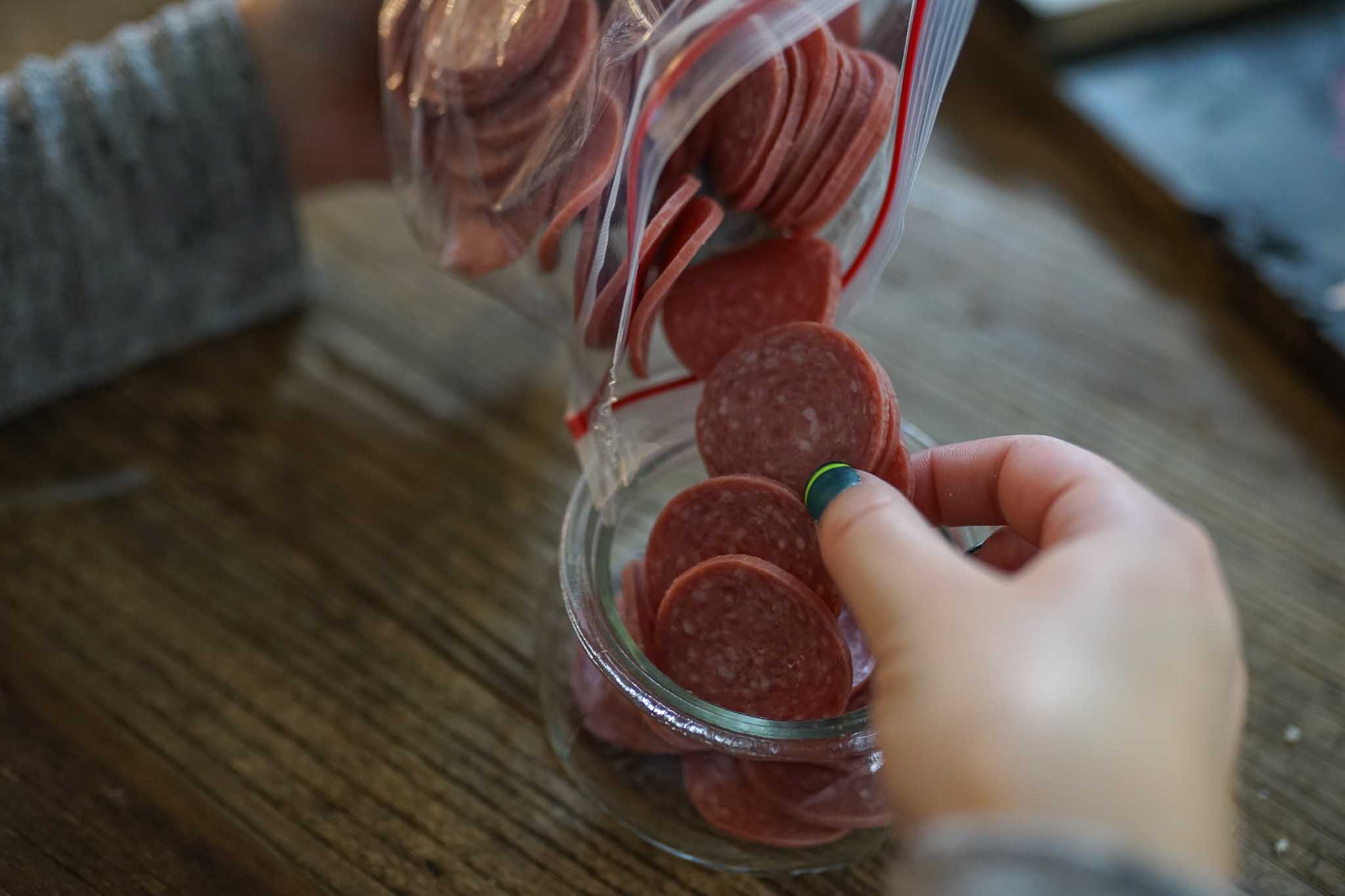 Mixed Nuts
Now it's time for the salty element! When it comes to choosing which nuts to add to your board, there are few great options: almonds, cashews, peanuts, macadamias, or even pistachios. Since we love a little bit of everything, we chose to buy a mixed nut variety!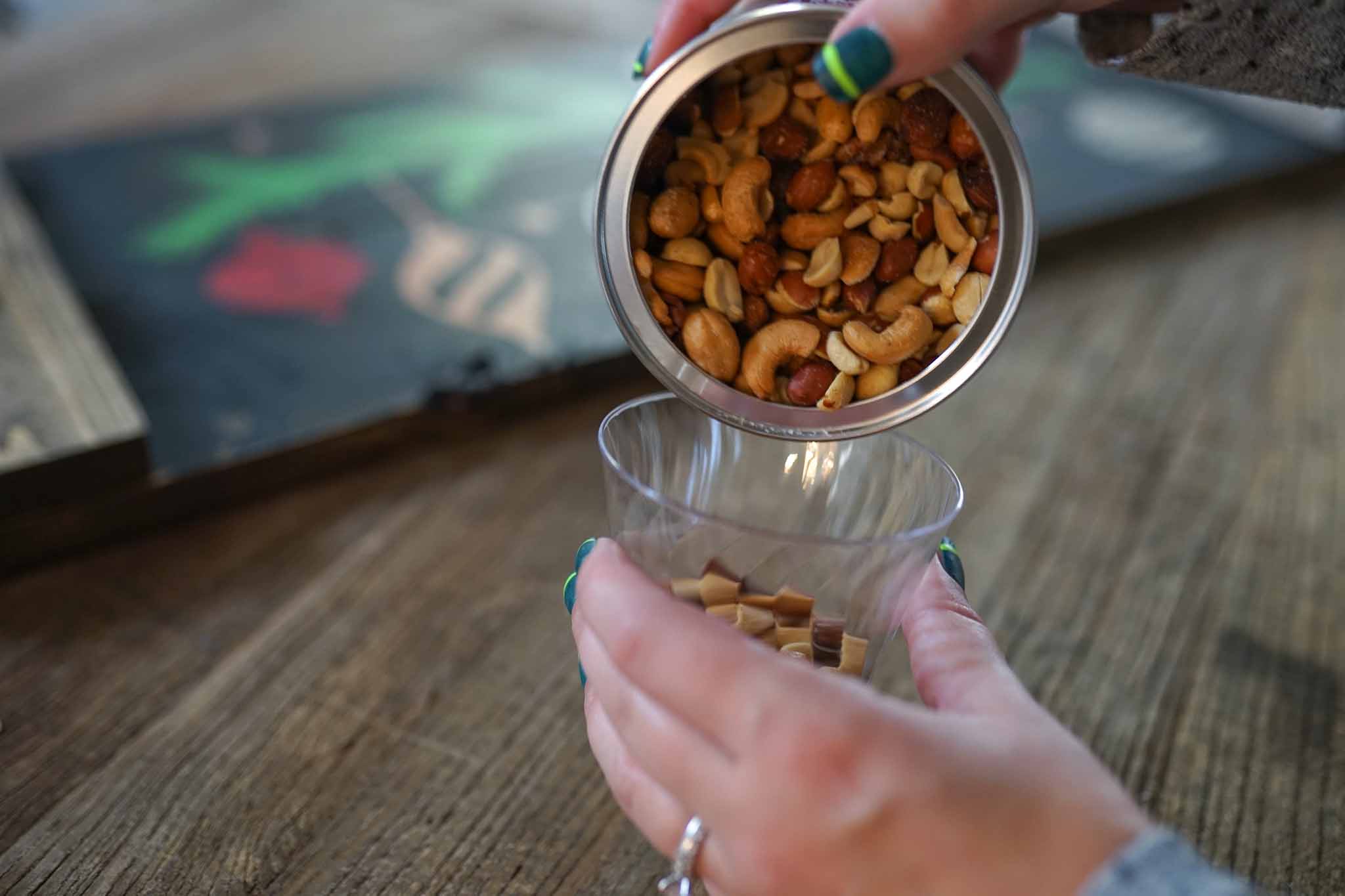 Chocolates
Now this might be our favorite part…the sweets! Nothing compliments the salty and savory elements of cheese quite like chocolate. Here is where you can get totally creative and cater your board to your guest's favorites! We chose to add salted caramel toffee truffles…yum! If you want to further mix sweet and salty, you can consider adding chocolate-covered pretzels or almonds!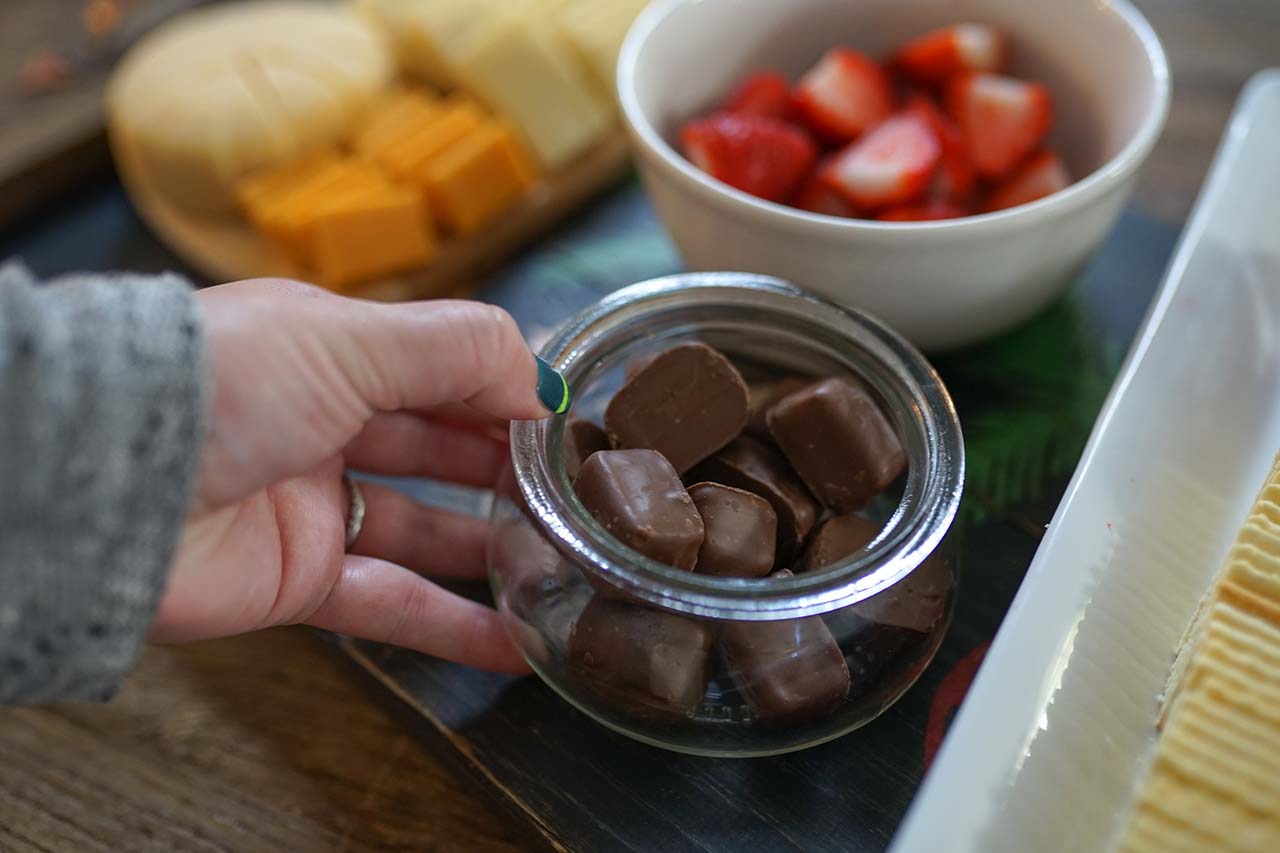 Crackers & Bread
When it comes to crackers and bread, we think adding a variety is key! People often use these elements as a "carrier" for their meats and cheeses. Consider flavored crackers (we added some cheddar wheat crackers), a neutral cracker (we chose Club crackers), and pita chips. If you want to take it a step further, you can even add some fresh french bread slices to your board. Just imagine how great that spreadable brie would taste on there!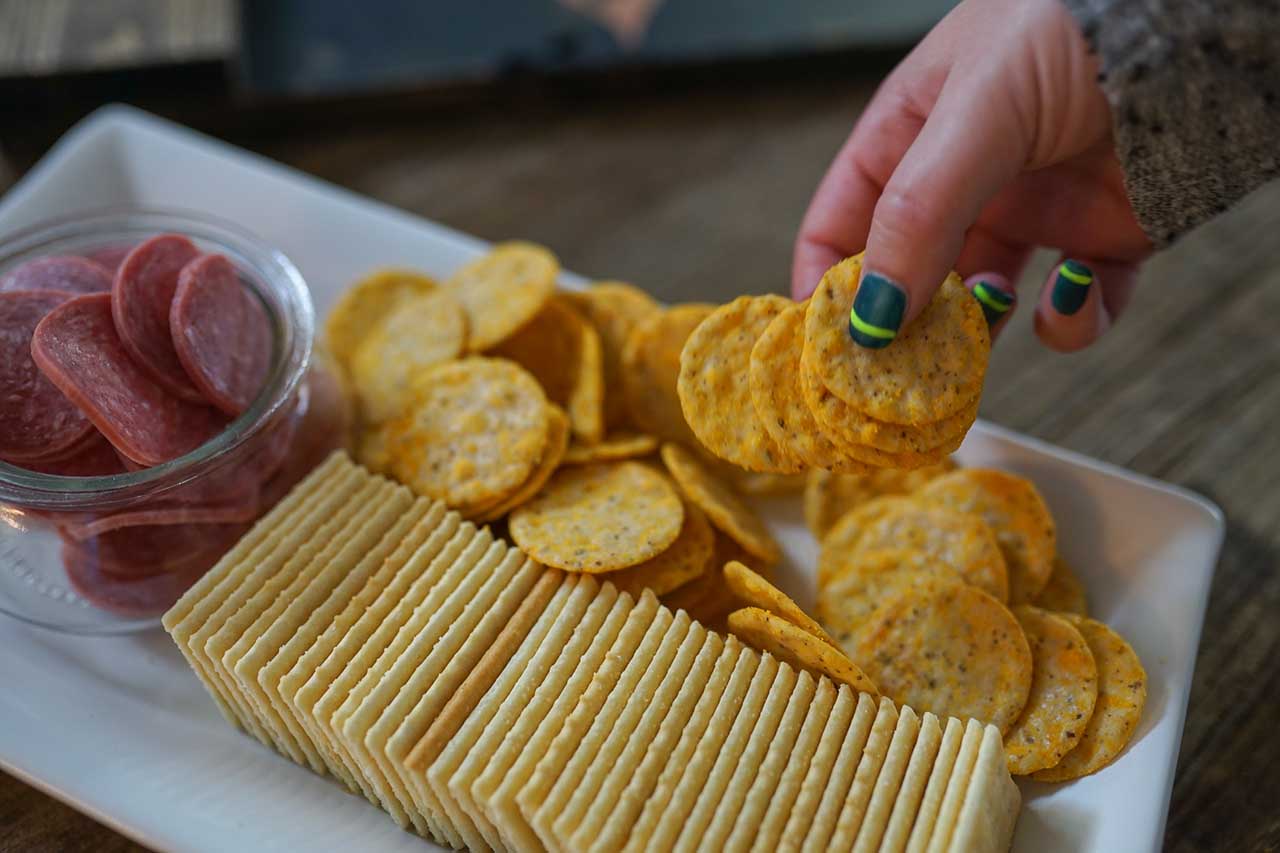 Fruits & Jam
Much like chocolates, fruits and jam add an additional element of sweetness to your charcuterie board. When it comes to selecting your fruits, think of the fun colors you can add to create more visual interest. Think bold red strawberries, soft green grapes, or bright orange apricots. You can go the fancy route and accent your board with chocolate-covered strawberries, or just add some small strawberry bits as we did!
For our jam, we chose a flavorful fig jam. You'll want to select something that will be tasty with your cheese choices!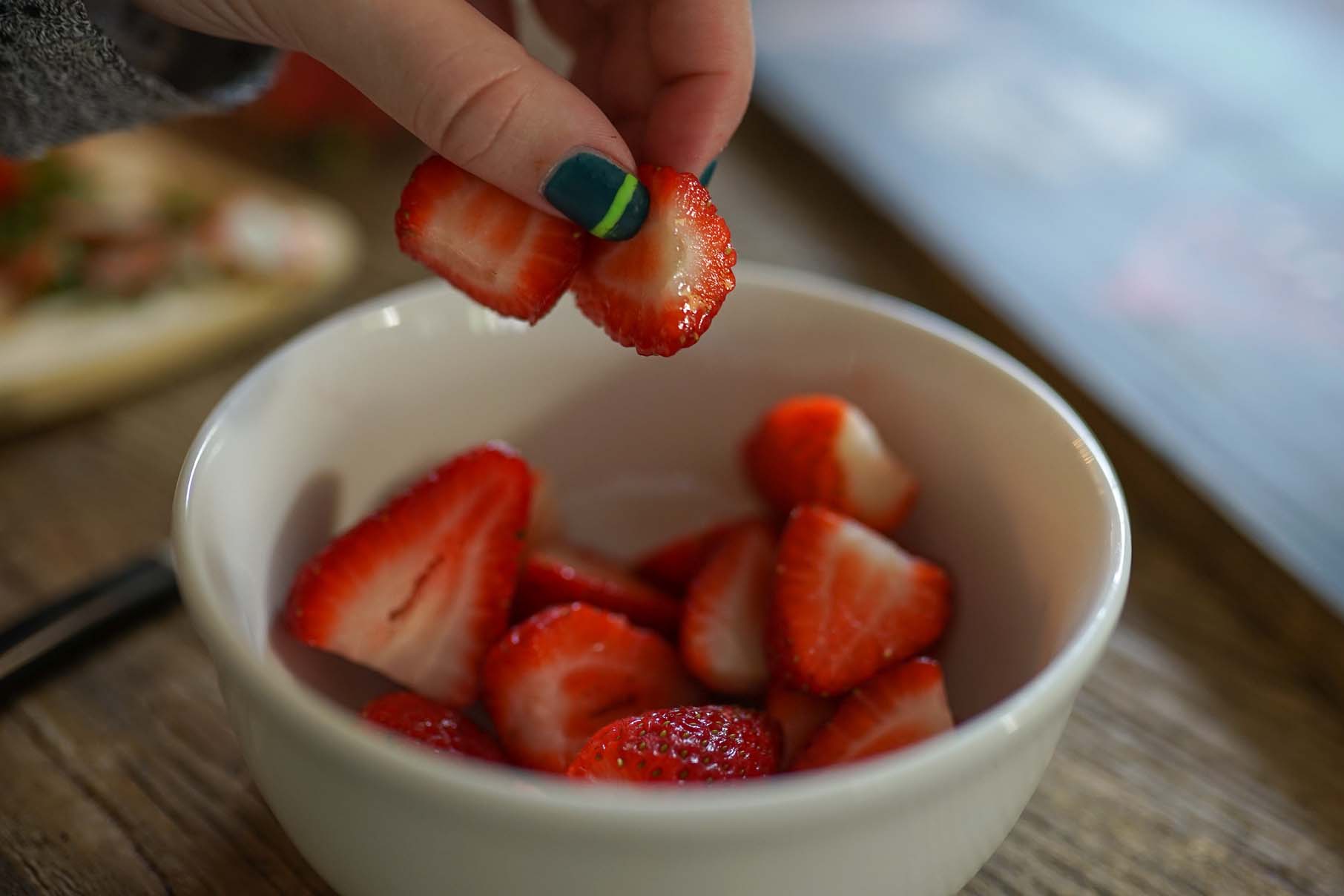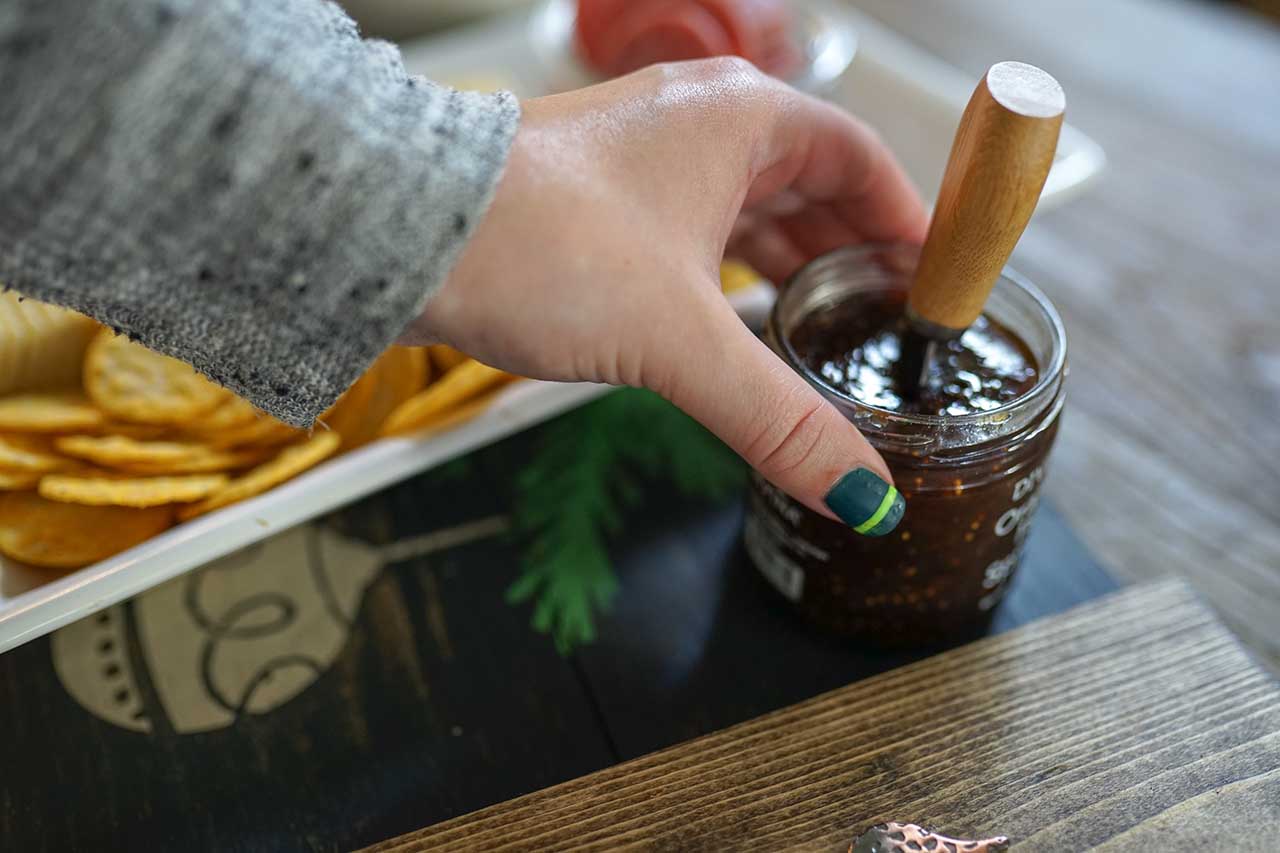 Selecting Your Charcuterie Board
Now that you have all of your delicious elements, it's time to start thinking about the arrangement and what you will use for your display. Here is where Board & Brush can help! We offer a variety of trays that make excellent charcuterie boards. From smaller-sized framed trays perfect for a small girls' night in, to full-sized trays that work perfectly for your large family gathering!
Plan a night out with friends to add your own unique touch to a wooden board. Then, you'll have the perfect statement piece when you are hosting!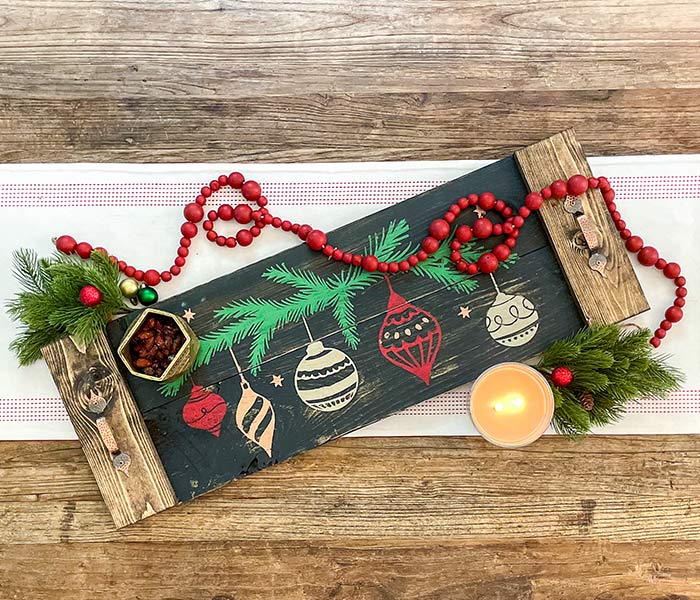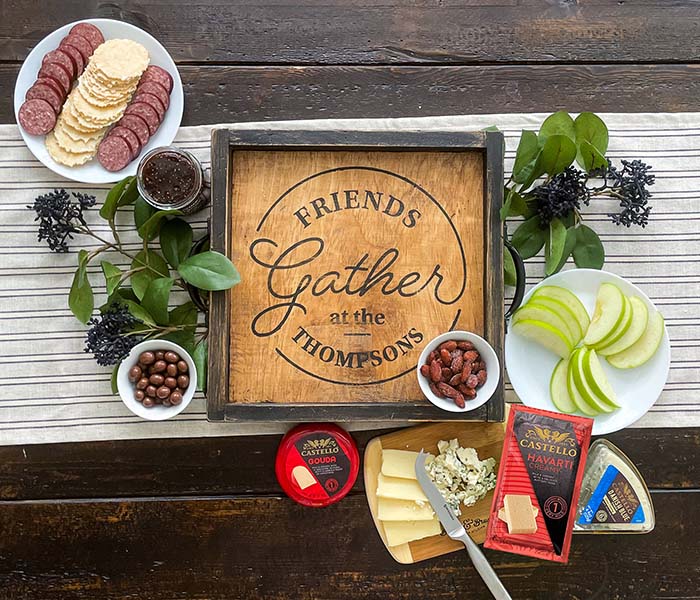 The Arrangement
When it comes to arranging your charcuterie board, you may have to do a little trial and error! But we promise…there's no wrong way to set up your board. Any way you do it will be delicious!
If you are using a Board & Brush tray, we recommend laying down parchment paper or doing what we did and using pretty dishes! We found that dishes were perfect for keeping the items contained and made for easy cleanup afterward.
Start by placing your largest items. We first placed our cheeses and cracker trays as we knew they would take up the most space. From there, we added our smaller bowls of nuts, chocolate, and fruit. We found the perfect cozy little spot for our jam, too! None of this was achieved on the first try, but rather by experimenting and moving everything around until it was perfect.
With everything nicely placed, we made sure all of the necessary utensils and silverware were added to the jam and spread. Finally, it was time to enjoy!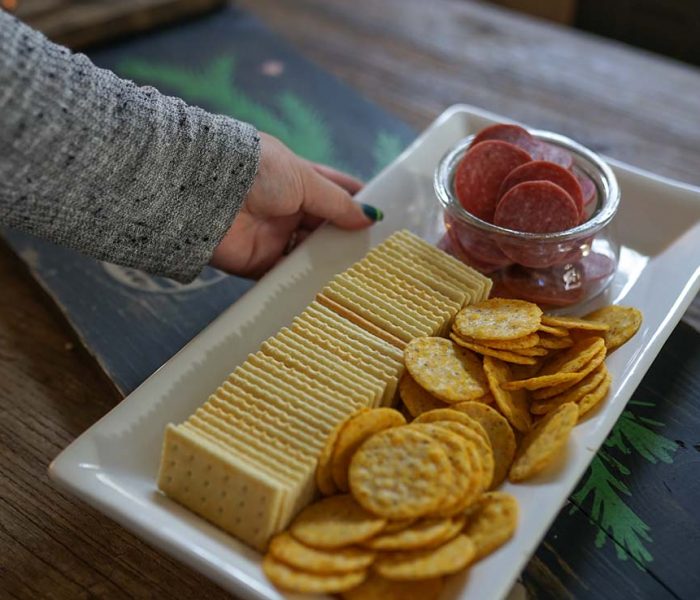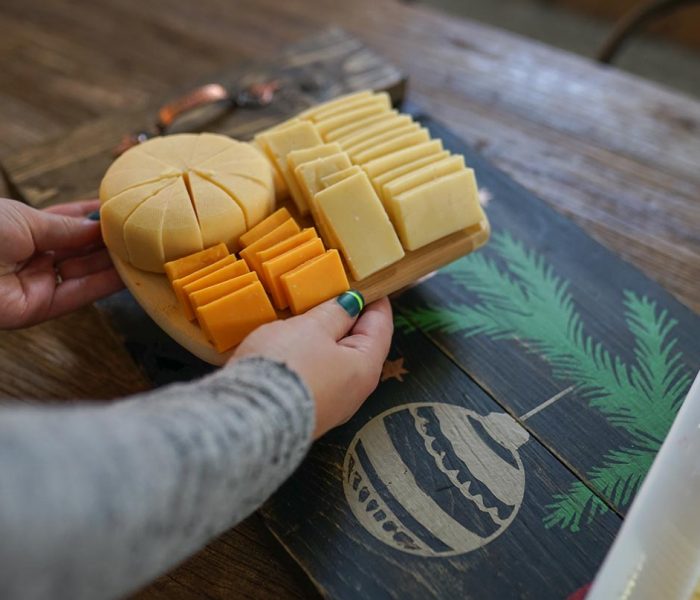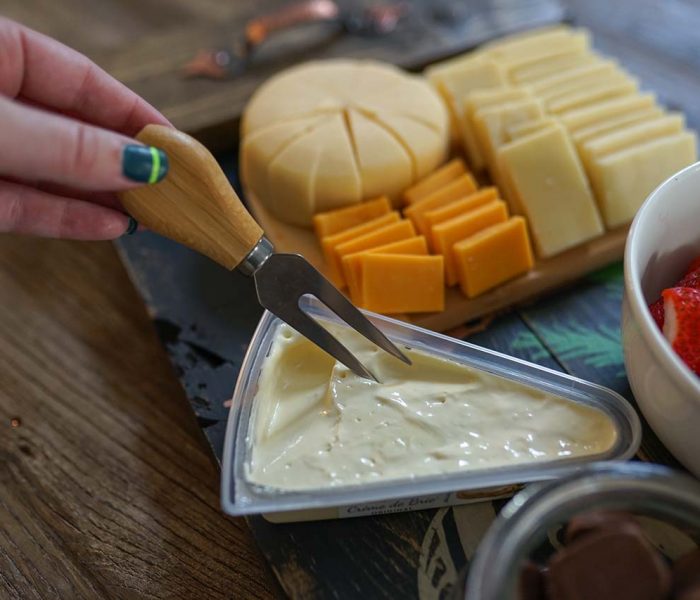 Enjoy your Masterpiece!
With the charcuterie board finalized, it's time to pour your favorite beverage and enjoy your delicious creation with friends and family. That's what a charcuterie board is really all about – gathering together over yummy food and great conversation.
We hope you are feeling inspired! Be sure to tag @boardandbrushcs in your creations, we'd love to see what you come up with. We also hope to see you in a workshop soon, it just might be time to create that beautiful charcuterie tray!