Board & Brush Fall Inspo: Stovetop Potpourri
As the summer days dwindle down, we are ready to embrace the change of seasons ahead. When we think ahead to fall, we imagine cozy nights spent by the fire, fun family activities like apple picking, and intimate dinner parties at home with loved ones. Thinking of all the beauty that autumn brings certainly makes welcoming the cooler weather a bit easier!
As with any change of season or passing of holiday, we know the first thing you often do is switch out your décor pieces to fit the aesthetic of the season ahead. Once you've DIYed and decorated, the finishing touches often include lighting candles or updating diffusers with seasonal scents. We believe that there's no better way to welcome guests into your home this time of year than with the smells of fall – apple, cinnamon, and a hint of citrus!
Today, we will walk you through a great – and easy! – way to send those sweet seasonal scents through your entire home! Enter: stovetop potpourri. Creating a stovetop potpourri is simple – you'll gather your favorite fall fruits and herbs and bring them together to simmer on the stove for a few hours. You'll quickly notice your home filling with those amazing fall fragrances!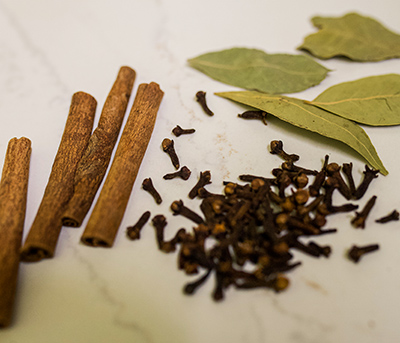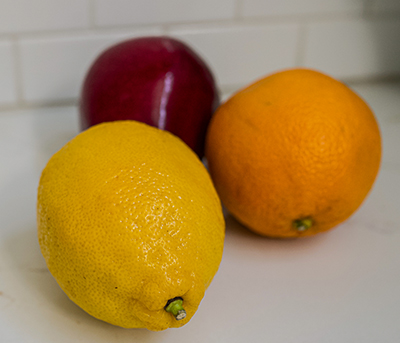 We've included our favorite potpourri recipe below, but like we always say at Board & Brush, feel free to add your own creative touch! Consider swapping or adding in additional scents that you love to make a fall potpourri unique to you.
First, gather your ingredients:
Half of an apple
Half of an Orange
Half of a Lemon
3 Cinnamon Sticks
3 Tablespoons of Whole Cloves
4 Whole Bay Leaves
1 Teaspoon of Vanilla Extract
4 cups of water

Creating your stovetop potpourri:
Begin by adding four cups of water to a large pot.
Next, slice your apple, orange, and lemon into quarter-inch slices. Remember, you'll only need half of each fruit! Then, add your fruit to the pot of water.
Then, sprinkle in the whole cloves, whole bay leaves, and cinnamon sticks. Finally, pour in a teaspoon of vanilla.
With all your ingredients in the pot, bring the mixture to a light simmer. Important: you don't want the potpourri to boil, but rather rest at a slight simmer.
Let your potpourri simmer for a few hours to really get the most out of the flavors and scents. Your house will quickly begin to fill with the delicious smells of autumn! To extend the life of your potpourri, feel free to add a bit more water to the mixture and bring it back to a simmer a few times over the following days.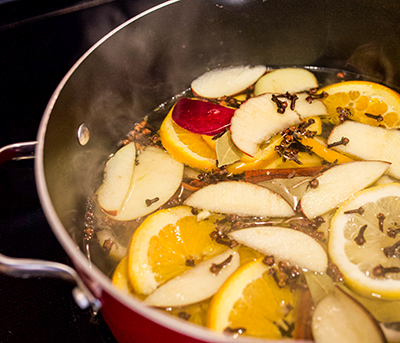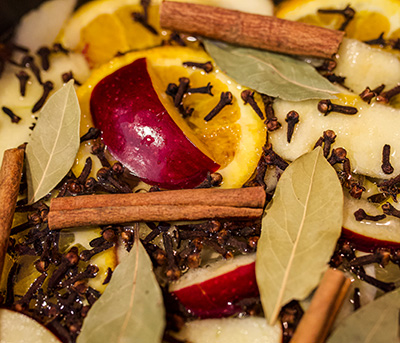 Sit back and enjoy!
With your potpourri simmering, now's the time to sit back and enjoy a cozy day at home. We'd love to hear about any adjustments you made to the above recipe to create your own one-of-a-kind potpourri!
Do these delicious scents have you craving some new fall décor? Be sure to visit your local Board & Brush studio to DIY something beautiful! We have a gallery full of fall – and Halloween – designs that are sure to assist with a seasonal refresh.