SEVEN EASY WAYS TO WARM UP YOUR THANKSGIVING GATHERING
Thanksgiving will be here before you know it – are you ready to welcome your guests? If not, no need to worry! We've invited interior decorator Emily Koskinen, co-owner of M+B Design, to share some great Thanksgiving hosting ideas to make your home more welcoming – without a lot of cost or effort.
Keep it Simple
"I think the biggest tip I can give is to just create an environment of invitation," Emily says. "Instead of worrying about whether you have the perfect bouquet of flowers or the perfect décor, think about making the most of what you have.
"In a social media world, where we like to showcase every little thing, it's easy to get wrapped up in thoughts of 'Do I have the best?' 'Have I done enough?' or 'Is this good enough?' But what people really care about the most is that you've created a warm, welcoming environment, where they can walk in, take a deep breath, and feel like it's a cozy space to be."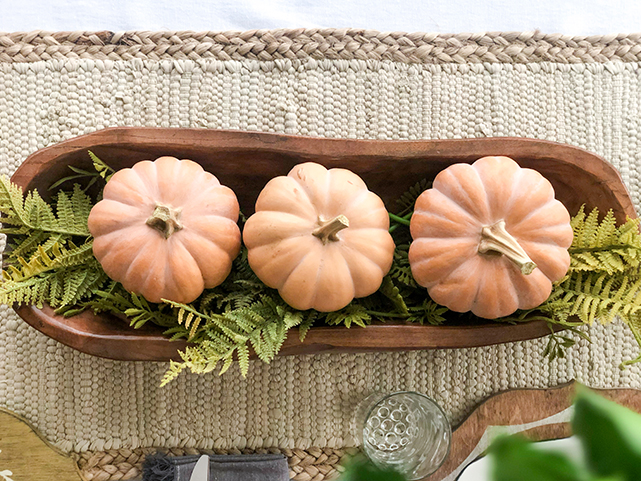 Start with Halloween
One thing you can do to get the ball rolling is leverage your Halloween decorations. There's no need to start from scratch.
"If you have pumpkins that you bought for Halloween, that can stretch into general fall décor, which is always nice," Emily says. "White pumpkins are trending right now, too. So you don't have to only stick with the traditional orange."
"And anything you can gather from outside – like acorns, chestnuts, or pine cones – helps in that way, too. There are a lot of things that can be transitional for all of fall instead of just Thanksgiving."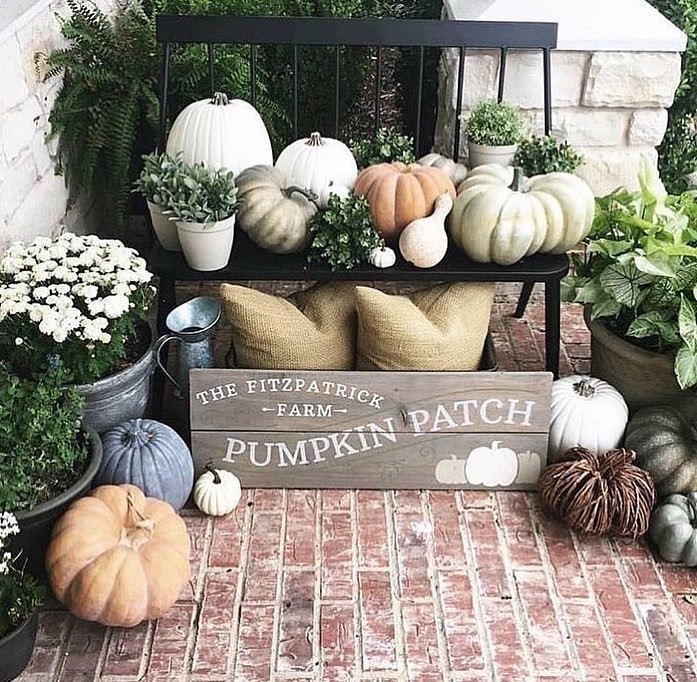 Try Some New Textiles
Another easy way to change things up is by swapping out some of the fabrics in your home. Just changing the colors of accents like throw pillows and blankets can make a big difference.
"Maybe just switching out just a few things to create a color palette that will run a little bit more toward the fall colors," Emily says. "If you enjoy a neutral color palette you could pull in some richness from some creams or some gold tones. Those all lean toward that fall palette without being too wild or too bold with the reds or oranges."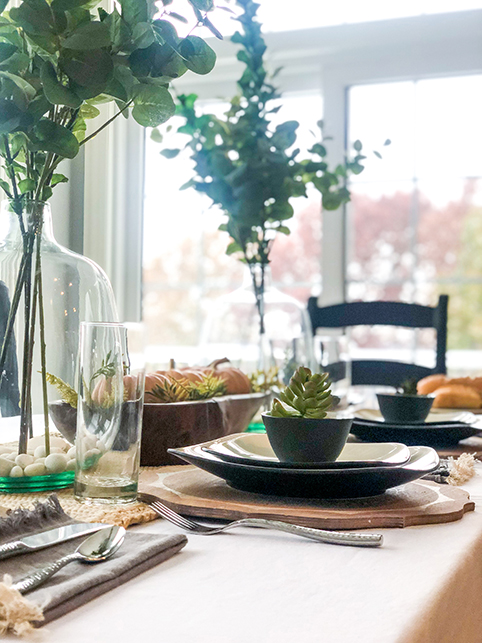 Go Green
Bringing some greenery into any of the spaces in your home is a great way to add life to any room. And by "greenery," she doesn't just mean things that are actually green.
"That can mean literally green plants or green stems, but also that can mean florals as well," Emily says. "But bringing in those live green things in your space will make a huge difference because it brings life into the room. I always say you can never have enough."
Don't overlook faux greens, either, she adds. "These are not the waxy, plastic flowers your grandmother had. Today's faux greens are very realistic, they're affordable, and they last forever so you can re-use them year after year, and for different occasions."

Set the Table
Having a set table ahead of time, before your guests begin arriving, adds a nice touch of elegance – especially if your dining table is within view of your entryway. It doesn't have to be fancy but doing a few things differently – like folding the napkins in an interesting way – can help the occasion feel special.
"Putting a place card on each person's table setting is another fun way to let your guests know you kind of went above and beyond for them personally," Emily says. "Especially guests who may not be used to being part of a family gathering."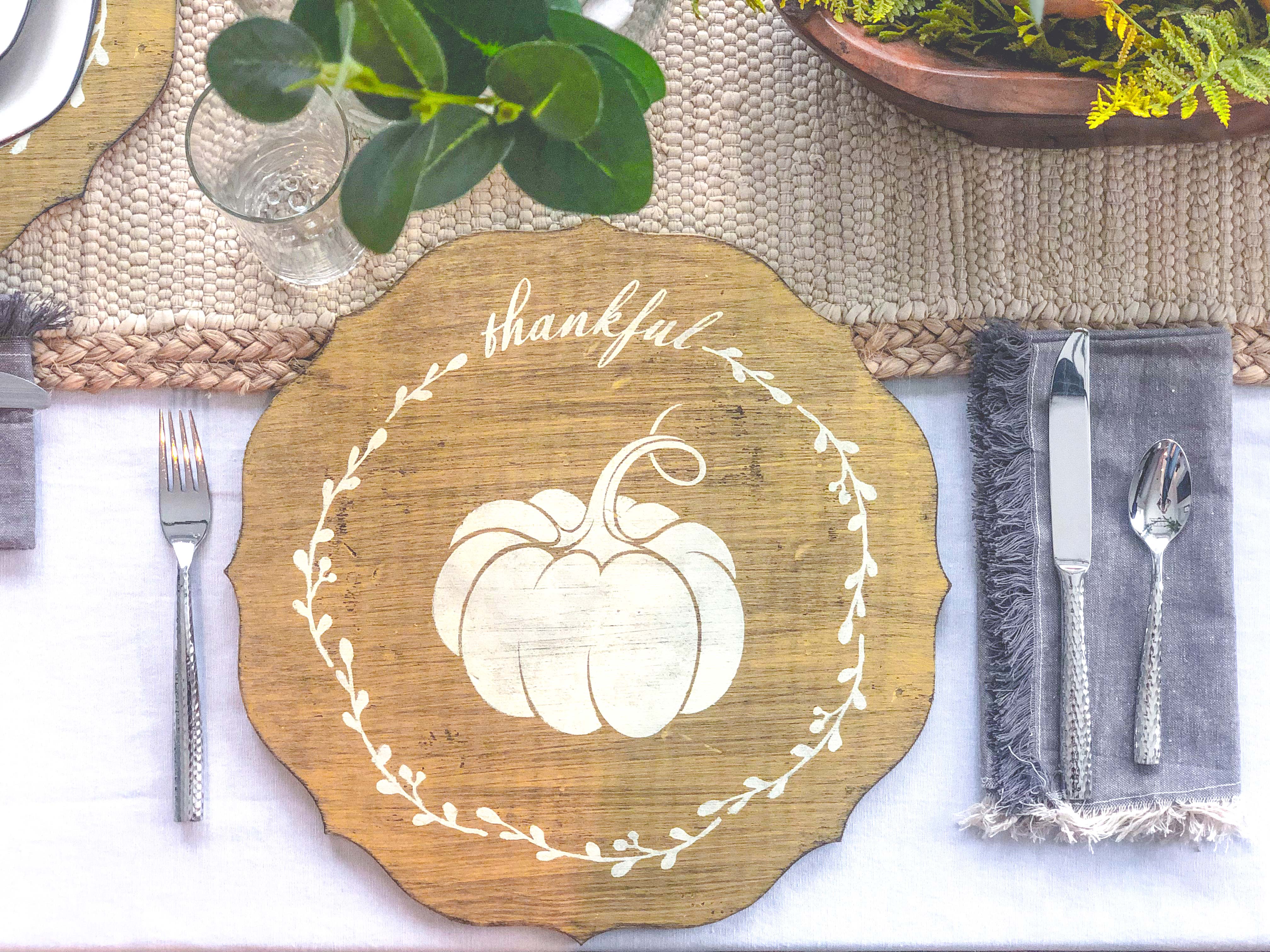 Elevate the "Kids' Table"
No, that doesn't mean to make it higher! It means to make the kids feel special by making their dining experience more like the grown-ups' table.
"Of course, you want to keep the kids' table 'kid-friendly,' but it's also fun to try to mimic what the adults are doing. For instance, serve sparkling grape juice in plastic wine glasses. Things like that, be creative. The kids will love it!"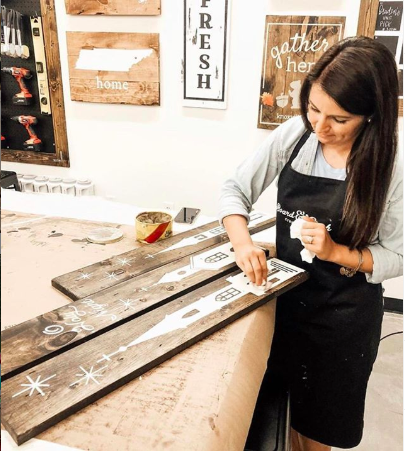 Head to Board & Brush
Finally, a fun way to truly personalize your home before hosting Thanksgiving is by creating a personalized project at a nearby Board & Brush Creative Studio location. You can choose from a wide variety of Thanksgiving and seasonal projects, including wood signs, boxes, trivets, and more.
"There's nothing like a beautiful piece you created yourself to add the ultimate personal touch to your holiday gathering," Emily says. "And Board & Brush makes it easy. It's also a great way to get together and spend time with friends."