8 Tips to Make Your Holiday Mantel Shine
Today's blog post is a feature from Emily Koskinen of MB Home Design:
As we dive into the excitement and anticipation of holiday decorating, it's easy to recognize the magic and nostalgia that comes with doing so each year. The memories flood us as we pull out the stockings we've enjoyed year after year. We experience joy as we drive down that first street that has houses adorned with lights.  For all of us, in some way, the Christmas season takes all of our senses to new heights and making the effort (however much or little that looks for you) just always feels right.
The mantel is very commonly a place we decorate, and a great way to showcase a typical focal point in your home. I believe that styling a mantel is a great way to keep your space feeling fresh,—while still letting your own design style + personality shine! But that being said, it's easy to feel overwhelmed by styling such a major focal point.
Here are a few of my favorite tips + tricks for styling your mantel this holiday season:

1) Choose an anchor piece
A mirror is one of my favorite anchor pieces because it reflects light and will instantly make your room feel bigger and brighter. You can also use a favorite art piece or a handcrafted sign like you'd create at board & brush.
2) Layering
If you've already started with that largest, must-use piece, you can then layer in some secondary elements. Usually this is something still fairly large, and will create some depth. I like to layer picture frames, or smaller art pieces/signs here. Still keep in mind the contrasting heights here, too. An example of a good match up here would be a mirror layered with a wood sign or piece of art.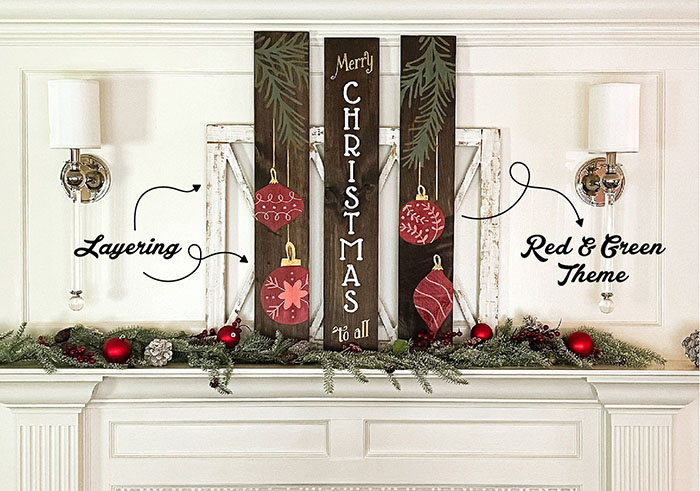 3) Greenery
Holiday mantels that incorporate greenery are always a feel-good decision. There's something about that feeling of brining a nature-inspired element into your home that immediately feels cozy. I will often times mix more than one garland strand together to create a more full look. You can layer eucalyptus with pine, a wood bead garland into your greenery, or add some battery powered twinkle lights, too!
4) Asymmetry
Resist the urge for everything to be equal on both sides. For a more organic look, you'll want to have some differences in your decor. Maybe one side has a few Christmas trees while the other side has candle sticks. Or, maybe you use stacked books on one side, with a vase on the other. Consider the heaviness of how things look overall vs. the actual number of items you've chosen.
5) Pick a theme
If you're going for a woodsy look, adding in lots of glitter and shine wouldn't be the look you're going for. It's very normal to be attracted to more than one aesthetic…but for that polished, put-together look—you'll want to try your best to stick to one theme.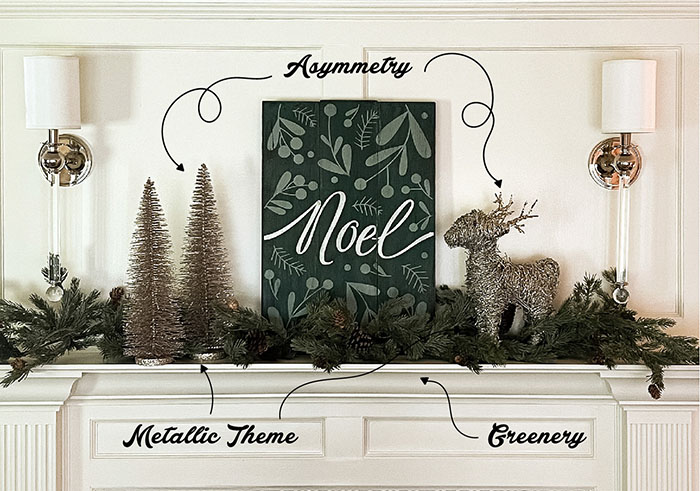 6) Contrasting Heights:
Having a contrast in shape + size is important to keep your eye balanced. If the items you choose feel heavier or taller on one side, it will feel off, and not tailored. I recommend starting with the tallest or largest piece that feels like a must-use…and then go from there. Pick a few taller elements..along with a few smaller…and your mantel will be perfectly balanced.
7) The Cantaloupe Rule
The cantaloupe rule is one that is valuable for not only mantels, but also as a general home decor rule. If you are trying to style with something that is smaller than a cantaloupe, it's more than likely a tchotchke, and not something worthy of spending money on. The target dollar spot has a tendency of tempting us to spend money on decor elements that fall into this "too small" category more often than not. Instead of spending money on 2-3 smaller things, buy one thing that is timeless and will transition from year to year.
8) Design for YOU
We are all guilty of having those moments where we walk into someone else's space and immediately start drooling over how amazing their home looks. But what is always important to remember is how high a standard we need to hold for what truly makes us (as individuals or families) happy. If simple, homemade, easy-peasy is what your family does—that's great! If your house looks like Santa's elves couldn't have done it better themselves, that's also great. Design for you and your personal happiness! Step back and ask yourself, "Does our house feel like us?" And if you feel like it's a no, then make some edits until you create that feeling for yourself.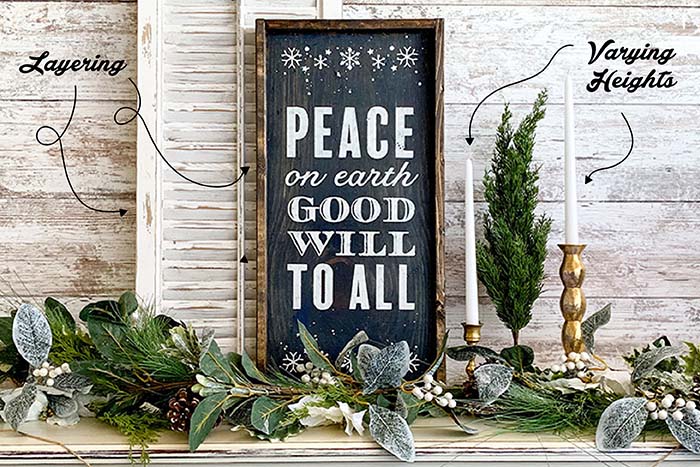 I hope that these mantel decorating tips + tricks empowers you to decorate your own mantel just as you see fit for your personal style! Tag @boardandbrushcs or #boardandbrush so we can follow along as you create beautiful spaces within your home. I can't wait to see your beautifully styled mantels!
XO-
Emily