HOW TO: Bake a Pumpkin-Shaped Bread Loaf!
One of the best parts about fall is all of the cozy nights spent at home entertaining friends and loved ones. There's something about an intimate dinner party filled with fall scents and yummy comfort food that brings everyone together. When it's time to host your next fall gathering, we're sure you have your special recipes and staple food items. But if you're looking to add an easy 'wow' factor, you'll love this new bread recipe! And let's be honest…who doesn't love bread?!
Follow along as we bake a beautiful pumpkin-shaped bread loaf:

First, gather your ingredients:
2lbs of bread dough (we used frozen dough, but if you're feeling more ambitious, you can use your favorite DIY dough recipe!)
1 Tbs Grated Parmesan Cheese
2 Tbs of Butter
1 Cinnamon Stick
Twine or natural hemp string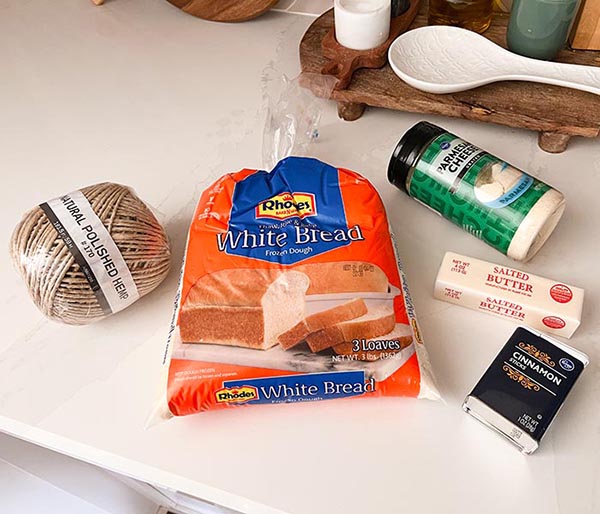 Creating your Pumpkin-Shaped Loaf:
Begin by rolling your dough into a ball – the smoother, the better!
Cut 3 pieces of twine into lengths of about 18″ each
Lay the pieces of twine on your cutting board as shown to the right.
Place your ball of dough on top of the twine. Then, individually tie each string around the dough ball. You want the twine to be secure, but don't tie it too tight to the point where the dough will not be able to expand at all.
Next, melt your butter and combine it with 1 tablespoon of grated parmesan. Brush your mixture over the entire ball of dough.
Preheat your oven to 350 degrees. Place the dough into a baking pan and allow it to rest on top of the oven as it preheats, allowing the dough to begin the rising process.
Once the oven has preheated and the dough has risen a bit, pop it in the oven for about 20 minutes.
Then, remove the pan from the oven and carefully cut and remove the twine strings. Pop the bread back in the oven for about 5 more minutes, or until the exterior is golden brown.
For the final step, add your cinnamon stick to the top of the loaf, mimicking a festive pumpkin stem!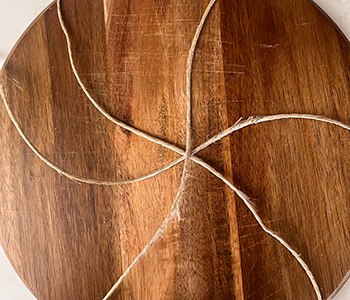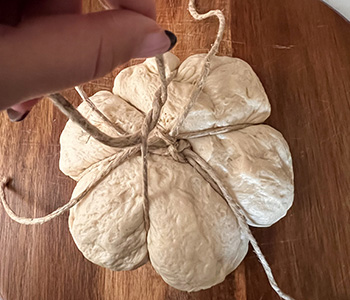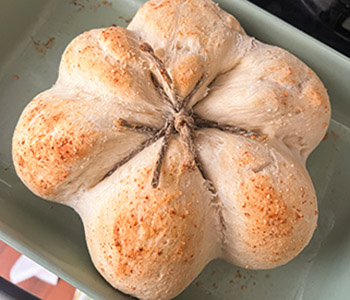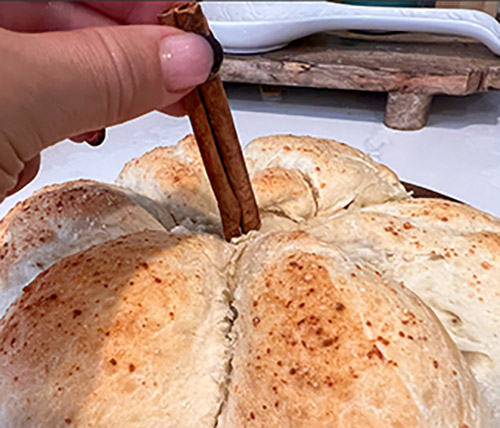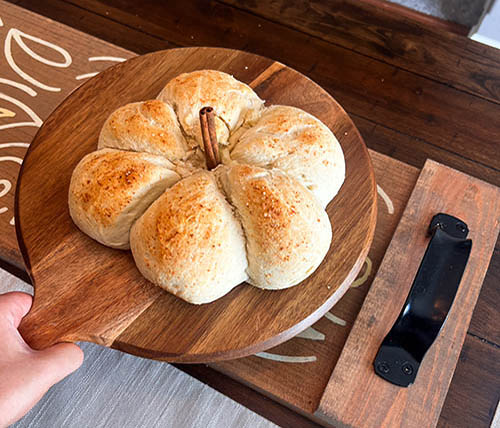 Now it's time to enjoy!
Your guests will surely be delighted to arrive at your home to the smell of fresh bread right out of the oven! We're excited for you to bring this fun yet easy recipe to life.
And remember…while we know you're already the "hostess with the mostest", Board & Brush is always here to help you add those finishing décor touches to your home just in time for your upcoming gathering. Whether you're looking for a porch project to welcome your guests, a tray or trivet to elevate your tablescape, or a wall sign to complete your gallery wall…we are here for a DIY experience you won't soon forget. Be sure to visit your local Board & Brush studio to create something beautiful!