THERE'S NO PLACE LIKE HOME – TO CREATE
As much of America slowly emerges from its months-long national quarantine, more and more of us are venturing out of the house to find exciting things to do. Hooray! But some parts of the country are taking it slow – and there's also still such a thing as a rainy day that often keeps us all inside.
Crafting is a great way to help pass the time and cope with stress during quarantine lockdowns. But whatever the reason you might be stuck inside, Board & Brush @HOME KITS from your local studio are a great way to keep the troops entertained, while creating something special to last a lifetime.
Easy to Use
We make it easy for you to create great projects at home. Included in each Bb @HOME KIT are all the boards, stencils, paint cups, and brushes you'll need. The kits are designed to be "BYOP" – Bring Your Own Paint – but pre-packaged paints from Board & Brush are also available as a project add-on.
If you provide your own, any craft or latex paint you have around the house will do. Think of it as the perfect opportunity to use up some of that leftover paint gathering dust in your basement or garage!
Bb @HOME KIT designs are specifically chosen for their simplicity. You won't need any special tools, and the "skills" you'll need are clearly explained in the instructions. Really – you can do this!
"It really is as easy as it sounds," says Amy Sackrison, Director of Marketing and Creative Design for Board & Brush. "And because you'll be creating this project all by yourself, you can be extra proud to display it in your home or give it as a gift.
Oodles of Designs
Just because the projects are on the simple side doesn't mean they're not beautiful. Board & Brush designers have come up with some very special creations for our @HOME KIT.
In fact, you'll have more than 100 designs to choose from for your @HOME KIT project, including simple signs to more complex. Again, don't worry – you can do it!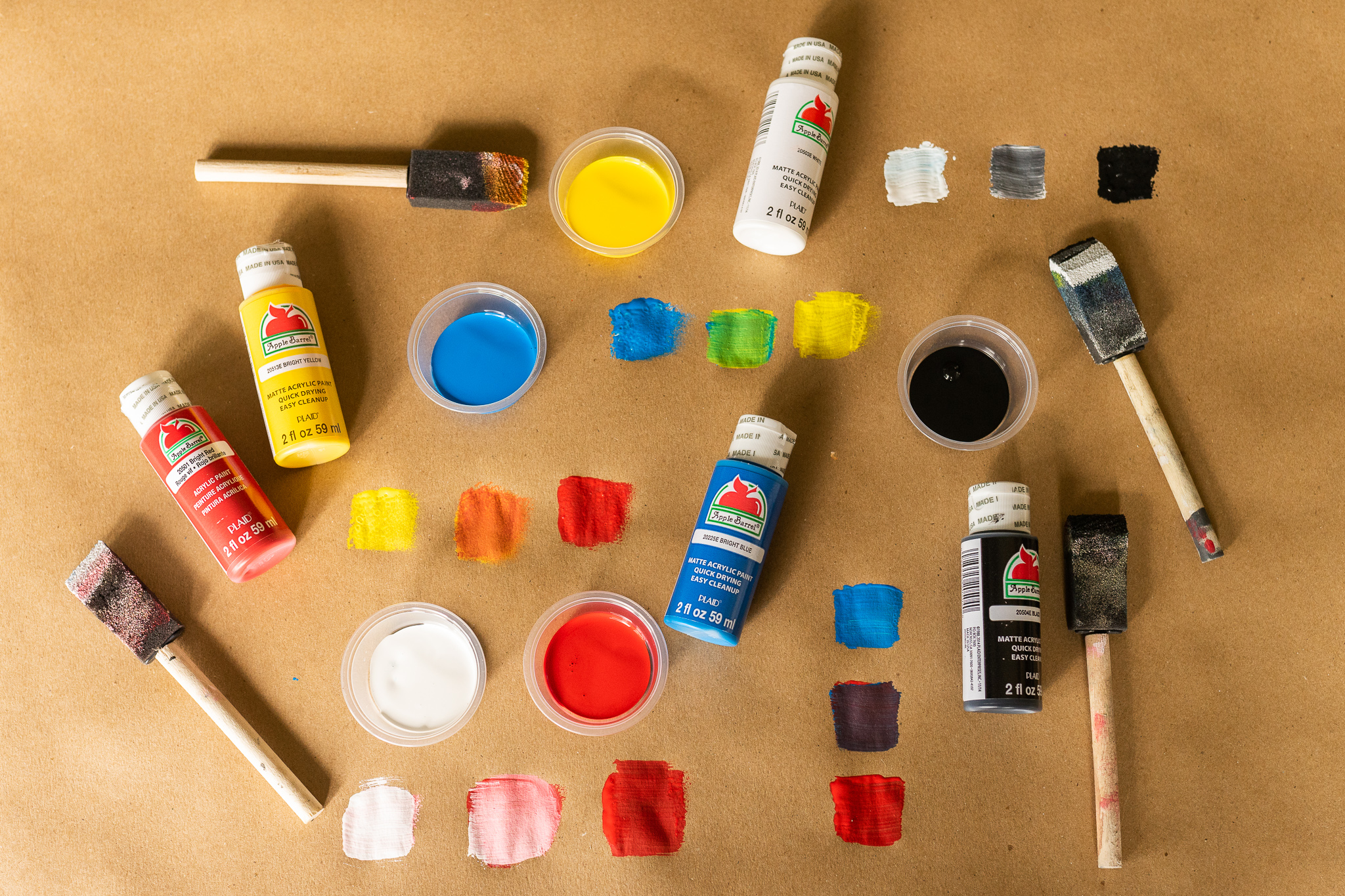 A Rainbow of Color
Now, you might be tempted to think, "But if I have to supply my own paint, my choice of colors will be very limited!" Not so – thanks to the magic of color mixing!
You may have heard the term "four-color printing." It's a process that allows printers to print virtually any color of the rainbow using just four colors of ink: three primary colors plus black (the white paper essentially serves as a fifth color).
So, with red, yellow, blue, white, and black paint you can create just about any color you like.
Whether you provide your own paints or get them from Board & Brush, you can create lots of "new" colors mixing whatever colors you have on hand. Each @HOME KIT also includes a color-mixing guide to help you create just the right color for your project.
"Mixing your own paints can be a big part of the fun," Sackrison says. "No matter what colors you're starting with, you may be surprised just how many shades and hues you can create with what you have around the house."
Act Locally
Remember, this is also a great way to help support your local Board & Brush studio during a tough time for everyone. Visit our website to check out our gallery of @HOME KITS. Then, you can purchase your favorite from our Shop Local site!